Former Real Madrid 'Galactico' announces retirement
Gareth Bale was once the most expensive footballer in history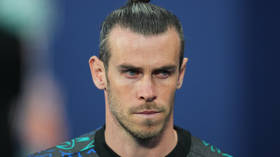 Former Real Madrid and Tottenham Hotspur star Gareth Bale has confirmed his retirement from football at the age of 33.
The Welshman, who became the most expensive player in football history when he moved to Real Madrid in 2013, was most recently seen on the world stage in Qatar, where he captained Wales in their unsuccessful bid to emerge from Group B at the FIFA World Cup. He scored his side's only goal of the tournament from the penalty spot against the United States.
He had most recently represented Major League Soccer outfit Los Angeles FC, but made just 13 appearances since signing a 12-month contract in June.
"After careful and thoughtful consideration, I announce my immediate retirement from club and international football," Bale wrote in a social media statement on Monday.
"I feel incredibly fortunate to have realized my dream of playing the sport I love. It has truly given me some of the best moments of my life. The highest of highs over 17 seasons, that will be impossible to replicate, no matter what the next chapter has in store for me.
"To my previous clubs, Southampton, Tottenham, Real Madrid and finally LAFC. All of my previous managers and coaches, backroom staff, team-mates, all the dedicated fans, my agents, my amazing friends and family, the impact you have had is immeasurable.
"I move on with anticipation to the next stage of my life. A time of change and transition, an opportunity for a new adventure…"
Cardiff-born Bale broke into the Southampton team in 2006 before earning a transfer to Tottenham Hotspur in 2007. He rose to prominence at White Hart Lane, becoming one of the world's top-rated wingers – prompting Real Madrid to add him to their 'Galactico' ranks in 2013.
It was in Spain where Bale would win an incredible five Champions League crowns, as well as three La Liga titles. His spell in the Spanish capital will perhaps be best remembered for his stunning overhead kick goal against Liverpool in the 2017-18 UEFA Champions League final.
On the international stage, Bale won a record 111 caps for Wales – as well as scoring more goals than any Welsh international before him, 44.
He was crucial to Wales' journey to the Euro 2016 semifinals, as well as being a key member of the national team squad which qualified for the 2022 FIFA World Cup in Qatar, becoming the first player to captain Wales in the tournament since 1958.
You can share this story on social media: