Footballer who refused BLM kneel wins settlement
Kiersten Hening had claimed she was being discriminated against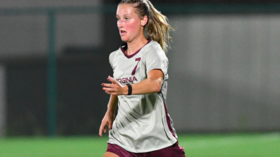 Kiersten Hening, a former US collegiate football player with Virginia Tech, has been awarded a $100,000 settlement after claiming she was discriminated against for refusing to kneel before a game as part of a social justice demonstration on behalf of the Black Lives Matter movement.
Hening will receive the sum for agreeing to drop a federal lawsuit against Virginia Tech coach Charles Adair, which claimed that her First Amendment right to freedom of speech under the US Constitution was being breached, according to a report by the Roanoke Times.
Under the terms of the settlement, neither Adair nor Hening admit to any wrongdoing, which comes after Hening claims she was dropped from the team after Adair became frustrated over her political views, which included an outright refusal to take part in the social justice demonstration which swept through many global sports from 2020 onwards.
Hening claimed in her lawsuit that she "supports social justice and believes that black lives matter," but added that she could not offer her support specifically to the Black Lives Matter organization, saying that she disagreed with many of its core tenets including its pursuit of defunding the police.
She added that she was "verbally attacked" by Adair at half-time during a game in September 2020 after she opted to remain standing while a so-called 'unity statement' was read ahead aloud ahead of kick-off.
Hening also stated that she quit the team shortly thereafter due to Adair's "campaign of abuse and retaliation."
In a December hearing, federal Judge Thomas Cullen refused to dismiss the lawsuit after finding that Hening's playing time did decrease following the dispute.
Adair, however, argued that two other players who opted to not kneel before games continued to play with the team.
"Ultimately, Adair may convince a jury that this coaching decision was based solely on Hening's poor play during the UVA game, but the court, viewing the evidence in the light most favorable to Hening, cannot reach that conclusion as a matter of law," Cullen said.
Referencing the rules, Adair took to Twitter to say that he is satisfied that the matter has concluded and that he has been cleared of wrongdoing – though he made no reference to the $100,000 sum awarded to Hening.
"I am pleased the case against me has been closed and I am free to move forward clear of any wrong doing," he wrote on Twitter.
"It's unfortunate, but this ordeal was about a disappointment and disagreement about playing time. Today, we have clarity that this case lacked any standing, and without evidence, the truth has prevailed," Adair added.
You can share this story on social media: