Western nations could boycott Olympics – ex-IOC member
The protest may occur if Russia is allowed to take part in the 2024 Games, the former official says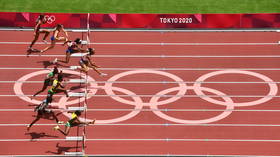 If Russia is granted permission to compete at the 2024 Olympics in Paris, it could lead to a widespread boycott of the prestigious event by Western nations, former IOC member Gerhard Heiberg has said.
Athletes from Russia and Belarus have faced several restrictions in international sports for much of the past year since the beginning of Russia's military operation in Ukraine following a decree by the International Olympic Committee (IOC) which was adopted by several other sporting federations across the globe.
However, the IOC last month signaled that it was exploring the possibility of reinstating both nations back into the international fold ahead of qualification events for Paris 2024, many of which are due to begin in the coming weeks.
The IOC stated that it was investigating proposals which would "facilitate the participation of athletes from Russia and Belarus in competitions in Asia under its authority, while respecting the sanctions in place" – but Heiberg, a Norwegian industrialist who was a high ranking member of the IOC for 23 years, says it is "far too early" for such considerations.
"The plan to devise acceptable conditions for inclusion of Russian athletes is far too early," he said.
"Ukraine's allies, indeed all of Europe, are wholly justified in their concern. More information is needed on Putin and his military leaders [who are] still formidably aggressive.
"It is much too soon for leaders of the Olympic Council of Asia to be investigating possible loopholes for Russian integration. Neighbors of Ukraine may well resort to boycott. The West should lie low for the moment and not venture in this false direction."
Heiberg's comments come several weeks after IOC President Thomas Bach appeared to clear a path for Russian reintegration into international sport.
"What we never did, and we never wanted to do, is [prohibit] athletes from participating in sports only because of their passport," Bach said.
"As we have always done with regard to the many other conflicts and wars in past and present, the Olympic movement must be a unifying force and not a dividing force."
Bach's stance was echoed by the United Nations, which also suggested that sport should be free of political grandstanding, saying it "should be organized in the spirit of peace," and that "the unifying and conciliative nature of such events should be respected."
Bach has also maintained that sanctions should apply to the Russian and Belarusian states specifically, but not the athletes who represent both nations.
"The question of athletes' participation was never part, and could not be part of the sanctions," he said.
"The question of athletes' participation was a protective measure to safeguard the integrity of international sports competitions and to ensure the safety of athletes from these two countries."
You can share this story on social media: