NFL team under fire for CPR celebration (VIDEO)
The Pittsburgh Steelers were accused of making light of the incident involving Damar Hamlin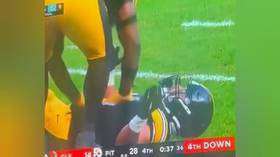 The NFL's Pittsburgh Steelers have felt the wrath of social media commenters after a particularly poor-taste celebration during their win against rivals the Cleveland Browns went viral on Sunday.
With 38 seconds left on the clock in what was a comprehensive 28-14 win for Pittsburgh over their AFC North rivals, Steelers linebacker Alex Highsmith tore through the Browns defensive line and sacked quarterback Deshaun Watson – but as Highsmith was lying on his back, a teammate approached him and appeared to mime the delivery of CPR to him.
This came just days after Buffalo Bills safety Damar Hamlin collapsed during a globally-televised game after suffering cardiac arrest, requiring around ten minutes of the life-saving CPR technique on the field before he was transported to a nearby medical facility in critical condition.
The incident led to an outpouring of grief within the league as updates on Hamlin's fate began to filter through.
Thankfully, the 24-year-old's condition appears to have significantly improved and he has regained the ability to breathe independently, while his neurological function appears unharmed – he even spoke to his Bills teammates via FaceTime following their win against the New England Patriots on Sunday.
But even as the positive updates about Hamlin filtered through, many NFL fans have made clear their objection to the Steelers' ill-timed celebration.
"Shoutout to the Steelers for choosing literally the WORST possible sack celebration this week," one fan wrote online.
"Classless Steelers with the CPR celebration," said another.
"Highly doubt they were mocking what happened, but yeah very tone deaf and bad optics here," wrote a third.
It is unlikely, though, that Hamlin himself will be too concerned by the situation – particularly after his Bills side secured second seed in the AFC in their win against the Patriots as Josh Allen and co. look to claim Buffalo's first-ever Super Bowl win.
You can share this story on social media: