Khabib to step away from MMA
The former UFC champion is set to leave mixed martial arts entirely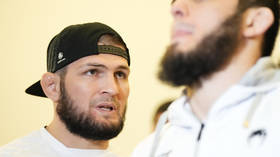 Former UFC lightweight champion Khabib Nurmagomedov is set to step away from mixed martial arts for good after the Russian icon shared an Instagram post which appeared to suggest that he will no longer act as a coach within the sport he once dominated as a competitor.
Khabib, 34, went 29-0 in an unbeaten professional career which saw him rise to UFC lightweight supremacy and defeat some of the biggest names in mixed martial arts such as Conor McGregor, Dustin Poirier and Justin Gaethje, before announcing his retirement as an active fighter shortly after his win against American fighter Gaethje in October 2020.
But it now seems that his rapidly flourishing coaching career will also meet a premature end, after Nurmagomedov posted a message to social media in which he thanked his training partners for their efforts in 2022, and said that his decision is "only for the best."
"Concluding the year," he wrote via translation: "Take care brothers. The year certainly turned out to be a very busy and successful. I hope my decision is only for the best, a big hug to you all. Thank you. You were a big reason for my success in sports."
Khabib's desire to move away from MMA was also confirmed by Javier Mendez, his longtime coach at the American Kickboxing Academy in San Jose, California.
"He just doesn't want to miss being a father," Mendez told Yahoo Sports about Khabib, who has three children.
"He talked to me about three weeks ago and told me of his plan and said he planned to talk to the team and inform them of his decision. He's doing this for the right reasons. He's a family man and he simply wants to spend more time with his family."
Should Nurmagomedov's retirement be made official it will signal the end of a hugely promising coaching career.
His students went an impressive 19-2 in 2022, including Islam Makhachev's win against Charles Oliveira to claim the UFC lightweight title, and his cousin Usman Nurmagomedov's rise to the Bellator lightweight world championship.
"Khabib learned so much from his father and from me and some of the other great coaches he worked with, and his guys have learned so much from him," Mendez said, referencing Khabib's father Abdulmanap who died in 2020.
"He instilled the things he learned from his father in the new generation and you can see the impact.
"Is he going to be missed? Absolutely. Will it negatively affect the team? That remains to be seen, but given what a great job he's done coaching his cousins and the others on the team, I think they're ready to move forward and continue his legacy."
Khabib had been expected to corner longtime friend and training partner Makhachev in his UFC lightweight title defense against Alexander Volkanovski in Perth, Australia in February, but Mendez said that he is unaware at this time if Khabib will delay his coaching retirement until after that date.
You can share this story on social media: