Friends and family of stricken NFL player provide update on condition
NFL star Damar Hamlin suffered a cardiac arrest during a primetime game on Monday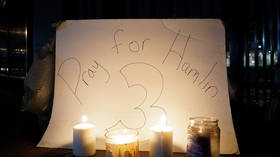 Damar Hamlin is "fighting," according to friends and family of the Buffalo Bills NFL star who collapsed and suffered a cardiac arrest during a primetime game against the Cincinnati Bengals on Monday night.
Hamlin appeared to be hurt following a tackle on Bengals wideout Tee Higgins, after which he rose to his feet before collapsing backwards just moments later.
Medical personnel from both teams attended Hamlin, 24, with CPR being performed on him for more than ten minutes as stunned teammates looked on, many of whom were in tears.
It was later confirmed by his team that Hamlin's heart had stopped during the incident, but it was successfully restarted following treatment on the field.
He was later rushed to a nearby medical facility for additional treatment where he remained on Tuesday.
While there has been no official word as to the extent of his injuries, however, friends and family of the defensive back have said he is battling for his life. They also thanked fans for their outpouring of grief and support in the hours that followed the shocking incident.
"I can't speak specifically on his medical condition," Jordan Rooney, a spokesperson for the Hamlin family, wrote in a post online.
"All I'll say is, he's fighting. He's a fighter. The family's in good spirits. We're honestly just taking it minute-by-minute, hour-by-hour. What's most important is to give the family their privacy. His family is going through a lot right now."
A further update from Hamlin's family made sure to note that they were touched by the wave of support which has been evident since the incident occurred.
"On behalf of our family, we want to express our sincere gratitude for the love and support shown to Damar during this challenging time. We are deeply moved by the prayers, kind words, and donations from fans around the country," the family said in a statement.
"We also want to acknowledge the dedicated first responders and healthcare professionals at the University of Cincinnati Medical Center who have provided exceptional care to Damar. We feel so blessed to be part of the Buffalo Bills organization and to have their support.
"We also want to thank Coach Taylor and the Bengals for everything they've done. Your generosity and compassion mean the world to us. Please keep Damar in your prayers. We will release updates as soon as we have them."
The most recent medical updates stated that Hamlin remains sedated and in critical condition.
Several NFL teams canceled scheduled press conferences on Tuesday out of respect for Hamlin.
One NFL coach, Mike Tomlin of the Pittsburgh Steelers, used his interview time to speak about how impressed he has been by Hamlin, a fellow Pennsylvania native.
"I've known that guy probably since he was about 12," Tomlin said.
"Just got a lot of respect and love for him as a human being. His commitment to the pursuit of his goals and dreams of doing what it is he's doing right now, which is playing in the NFL, and to watch him make personal decisions and make that a realization, it's just an honor to get to know young people like that.
"I had an opportunity to express that to him whenever I see him."
You can share this story on social media: