Russian chess champion to represent Switzerland
Alexandra Kosteniuk is in the process of switching her national allegiances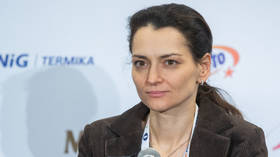 The world's ninth-ranked female chess player, Alexandra Kosteniuk, who holds both Russian and Swiss citizenship, is set to represent the Swiss Chess Federation from January 2024, the organization said in a statement released on Tuesday.
Kosteniuk, 38, will play for the Swiss federation's male and female teams "if need be," according to the statement, as she stopped representing Russia shortly after the launch of the country's military operation in Ukraine.
In doing so, Kosteniuk will become the latest Russian grandmaster to turn her back on the country following the onset of the tensions in Ukraine.
In April, 44 top Russian players signed an open letter in which they voiced their opposition to the conflict and called for an immediate ceasefire, as well as for open dialogue between Russia and Ukraine, aimed at bringing peace to the region.
Since voicing her own opposition to the conflict, Kosteniuk has competed under the flag of the International Chess Federation (FIDE).
Kosteniuk last played on behalf of Russia in December 2021, and the reason for the delay in confirming her as a member of the Swiss federation is that she is obliged to complete a two-year waiting period before switching nationalities.
However, the process can be fast-tracked if the Swiss Chess Federation pay their Russian counterparts a transfer fee of €10,000 ($10,500).
The delay means that Kosteniuk will be forced to sit out the 2023 European Team Championship.
Kosteniuk is one of the best-regarded female chess players in the world. She was the women's world chess champion between 2008 and 2010, and took first place in the women's rapid chess championship in 2021.
According to Peter Erismann of the Swiss Chess Federation, Kosteniuk's change of nationality will allow her to continue to compete in team sports, with Russia continuing to face sanctions in its ability to compete in international tournaments from various international sports federations.
"On the one hand, we are offering the players affected by the Ukraine war the opportunity to continue competing in a team," he said. "On the other hand it is of course also part of our sporting objectives to compete with the strongest possible national teams."
The Russian Chess Federation, meanwhile, says that it has not yet received official notification of Kosteniuk's transfer according to RIA Novosti Sport.
You can share this story on social media: