Russian tennis star reflects on 'not smart' Australian Open comments
Daniil Medvedev drew flak for comments he made about Australian tennis fans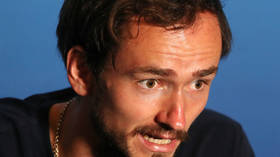 The world seventh-ranked player, Russia's Daniil Medvedev, says that a comment he made at last year's Australian Open in which he described local tennis fans as having low IQs was "not smart."
Medvedev's ire was drawn by a section of supporters at the Grand Slam event who were chanting "siuuu," a cheer taken as a boo and associated with footballer Cristiano Ronaldo, in between some of his serves in a match against local favorite Nick Kyrgios.
Medvedev would later tell Eurosport "I guess some people just have a low IQ."
However, weeks out from Medvedev's latest Grand Slam challenge and ahead of his Tuesday match at the Adelaide International, he admitted that his reaction was not appropriate.
"Out of the 13,000 who were there, because the stadium was packed, this comment maybe was to 50 people max, so that's the first thing," Medvedev said. "And this comment was probably not smart from my part.
"But when you go out from the match, the way it was with Nick, sometimes you say things like one hour after, [and you think] 'Why did I say this?' First of all, it's maybe not true, then it's stupid."
Medvedev would win the match, recording his first-ever victory against Kyrgios in the process, and said that he is anticipating another memorable battle with the Australian if their paths cross in Melbourne.
"Nick is a great player, great serve," Medvedev said. "I don't feel like we have, like, some crazy rivalry because he definitely has some more spiced-up rivalries with other players.
"I feel like when I play him it's a great match-up. I would like to play him more, to try to do better than last year. Definitely at the US Open he was not easy to handle, so I want to try to get my revenge if I have the chance."
But, more than that, Medvedev says he sees this year's Australian Open as a chance at redemption after a dispiriting defeat to Rafael Nadal in last year's final; a match he feels he let slip from his grasp amid a stunning fightback by the Spaniard.
"I felt absolutely terrible ... the thing about life and tennis is that you have to get over it, try to learn from it because you can't change the past," he said.
"I had some tough moments in my career... tough losses. I know a lot of losses in a row and I always managed to find a way back, so I'm sure I'm going to find the way back to an even higher level than I was playing maybe last year.
"But yeah, the match was not easy to get over for some time, but right now I'm looking forward to the Australian Open again and I want to do better than last year. That's the goal."
You can share this story on social media: