Tennis icon Martina Navratilova reveals cancer diagnosis
The 66-year-old Czech-American beat the disease in 2010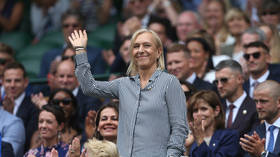 Martina Navratilova, the highly respected tennis icon who won 18 Grand Slam titles during her legendary career, has announced that she has been diagnosed with throat and breast cancer.
The 66-year-old, who survived breast cancer in 2010, will begin treatment in New York in a few weeks.
The Czech-American told tennis.com on Monday that she is anticipating a "favorable outcome" and added that she is hopeful that both of the cancers are treatable.
"The double whammy is serious, but fixable, and I'm hoping for a favorable outcome," she said.
"It's going to stink for a while, but I'll fight with all I have got."
Navratilova was seen with what appeared to be an enlarged lymph node on her neck while attending the WTA Finals in Forth Worth, Texas in November. A biopsy later revealed that she was suffering from stage-one throat cancer.
Subsequent investigations also revealed the presence of an unrelated cancer in her breast.
"Martina Navratilova has been diagnosed with stage-one throat cancer," read a statement from her representative. "The prognosis is good and Martina will start her treatment this month.
"The cancer type is HPV and this particular type responds really well to treatment. Martina noticed an enlarged lymph node in her neck during the WTA finals in Fort Worth. When it didn't go down, a biopsy was performed, the results came back as stage-one throat cancer.
"At the same time as Martina was undergoing the tests for the throat, a suspicious form was found in her breast, which was subsequently diagnosed as cancer, completely unrelated to the throat cancer."
Navratilova had been scheduled to provide commentary and analysis at this month's Australian Open but will now instead contribute remotely online while she awaits medical intervention.
You can share this story on social media: