FIFA boss outlines plans for Pele tribute (VIDEO)
Gianni Infantino has revealed proposals to honor the Brazilian football icon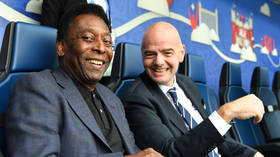 FIFA President Gianni Infantino has called on every nation to name a football stadium after Brazil icon Pele, who passed away last Thursday at the age of 82 after a battle with cancer.
Infantino made the suggestion while speaking to reporters at Santos' Urbano Caldeira Stadium, where the legendary footballer is effectively lying in state ahead of his burial on Tuesday, with thousands of mourners queuing to pay tribute.
More than 5,000 members of the media from across the globe are thought to be attending the public memorial, which is taking place inside the Santos football stadium where Pele enjoyed so many of his finest moments.
The Brazilian legend was born in Tres Coracoes but moved to Santos in 1956 and spent the majority of his life in the Sao Paulo neighborhood.
Infantino was joined at the memorial by several dignitaries, including the South American country's recently elected President Luiz Inacio Lula da Silva and Vice President Geraldo Alckmin.
At Vila Belmiro, Santos, as Pele's funeral ceremony begins. Dignitaries beginning to file past his coffin – Gianni Infantino in bottom right pic.twitter.com/FXnTv5VO9a

— Oliver Brown (@oliverbrown_tel) January 2, 2023
"We are also going to ask every country in the world to name one of their football stadiums with the name of Pele," Infantino told the media in brief comments.
The suggestion will likely be an easy sell in Brazil but it remains to be seen how other members of world football's governing body will react to the FIFA president's suggestion. In all, some 211 countries are full members of FIFA.
Following his memorial, Pele's body will be transported through the streets of Santos to the Ecumenical Memorial Necropolis cemetery where he will be buried in a private ceremony.
"Pele leaves millions of Santos fans across our country. He was the creator of Brazilian soccer," said one fan of the footballer's impact on the country.
The public memorial, as well as Tuesday's procession, is being overseen by Sao Paulo state military police, which has adopted a special codename to oversee their efforts: "King Pele Operation."
The thousands of mourners in Santos, and millions more across the world, would agree that football's most famous icon deserves nothing less.
You can share this story on social media: