Russian UFC star announces surprise retirement
Damir Ismagulov has announced his retirement at just 31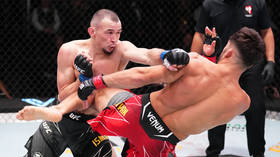 The prolific Russian lightweight fighter Damir Ismagulov has announced his retirement from mixed martial arts at the age of 31.
Ismagulov, who is ranked 12th in the UFC lightweight division, most recently fought for the UFC in Las Vegas on December 17 where he was defeated by the highly-rated Arman Tsarukyan in what was the first loss in the UFC and just the second of his career.
Prior to that, Ismagulov has won five straight fights in the UFC Octagon and an incredible 19 fights overall – but in a message posted to Instagram on Sunday, he appeared to cite health concerns as the primary motivation for his decision to hang up his 4oz gloves.
"Unfortunately, due to circumstances and health problems, I have to end my sports career," Ismagulov wrote on Instagram, via translation.
"Thanks to all those who were by my side, regardless of the result in the battles, who [are] sincerely hurt and worried. It was an interesting journey, a moment to remember. Hugs to everyone."
Ismagulov steps away from the sport with a record of 24-2 and having won world titles in the Alash and M-1 fight promotions, and was never finished in his eight-year professional career.
His run in the UFC will perhaps be best remembered for wins against Brazilian contender Thiago Moises and the tough Spanish lightweight Joel Alvarez - though his tenure with the UFC was interrupted by injury after the Moises bout, which meant that he didn't compete between September 2019 and May 2021.
There are no indications as to the nature of the health concerns cited by Ismagulov in his retirement message but it appears to have been enough to convince him to step away from a very promising career in the UFC's lightweight fold.
You can share this story on social media: