Spanish football 'does nothing' to combat racism, claims Real Madrid star
Vinicius Jr says racism remains a significant problem in Spanish football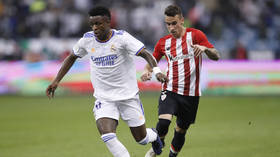 World Cup star Vinicius Jr has clashed with Spanish football authorities for what he claims is continued inaction against the scourge of racism within the sport.
The Brazilian playmaker, 22, appeared to be racially abused on several occasions by supporters during Real Madrid's 2-0 victory away to Real Valladolid on Friday, just months after rival club Atletico Madrid issued a statement in September to condemn what was described as "unacceptable" chants aimed at the footballer.
"Racists keep going to games and watching the greatest club in the world up close and La Liga continues to do nothing," Vinicius said in the aftermath of Friday's fixture.
"I will carry on with my head held high and celebrating my victories and those of Madrid. In the end the fault is mine."
Os racistas seguem indo aos estádios e assistindo ao maior clube do mundo de perto e a @LaLiga segue sem fazer nada… Seguirei de cabeça erguida e comemorando as minhas vitórias e do Madrid.No final a culpa é MINHA. 🤙🏿 pic.twitter.com/5ztuTjP4s6

— Vini Jr. (@vinijr) December 31, 2022
A spokesperson for La Liga addressed Vinicius Jr's comments, reaffirming that "hate speech has no place" within Spanish football.
"We are investigating [Friday's] match and, as always in these cases, will work with the clubs and appropriate authorities to identify and prosecute anyone guilty of hate speech.
"La Liga has detected videos uploaded to social networks of racist insults from a person, not from groups, and they will be charged as in previous cases."
In October of 2021, Spanish football authorities reported alleged instances of racist abuse aimed at Vinicius Jr to the Spanish prosecutor's office.
En @laliga llevamos años luchando contra el RACISMO. @vinijr es muy desafortunado,injusto y no es cierto publicar que "@laliga no hace nada contra el racismo, infórmate mejor.Estamos a tu disposición para que TODOS JUNTOS, vayamos en la misma dirección.👇https://t.co/60US2Gyk1h

— Javier Tebas Medrano (@Tebasjavier) December 31, 2022
However, on this occasion, Javier Tebas, president of La Liga, issued a furious response to Vinicius Jr to say that he objected to the claim that nothing was being done to combat racism.
"In La Liga, we've been fighting against racism for years," Tebas wrote on Twitter in response to Vinicius Jr.
"It is unfortunate, unfair and not true to publish that La Liga doesn't do anything against racism. Inform yourself better.
"We are at your disposal so that all together, we can go in the same direction."
You can share this story on social media: