Wimbledon ban 'changed nothing' says Belarus star
Aryna Sabalenka was among a number of players banned from the tennis Grand Slam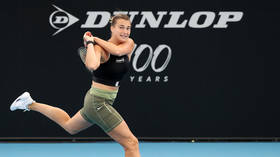 Aryna Sabalenka, the fifth-ranked female tennis player in the world, has said that Wimbledon's decision to ban players from both Belarus and Russia last summer affected no meaningful change other than to mix politics into sport.
Belarus' Sabalenka was among several players to be suspended from the competition by organizers of the grass court Grand Slam following Russia's military operation in Ukraine, as the event endorsed similar moves by several sporting federations in imposing sanctions on Russian and Belarusian sport.
Wimbledon was subsequently fined by the ATP and WTA for the move, while the event also had its ranking points stripped, due to its decision to disinvite several top players.
And ahead of the first Grand Slam event of the new year, the Australian Open which begins in just over two weeks' time, Sabalenka says that she feels sport and politics should be kept firmly apart.
"I'm just really disappointed sport is somehow in politics," Sabalenka told Australian newspaper The Age.
"We're just athletes playing their sport. That's it. We're not about politics. If all of us could do something it, we would do it, but we have zero control.
"They banned us from Wimbledon, and what did it change? Nothing - they're still doing this, and this is the sad [part] of this situation."
Sabalenka, a semi-finalist at Wimbledon in 2021, added that she hopes she will be permitted to compete in the tournament later this year, though Wimbledon organizers have yet to signal if they will end their self-imposed suspension of some of the sports biggest stars.
"It was a tough time. I was super disappointed with their decision," Sabalenka added.
"I really missed the people because the atmosphere at Wimbledon is super amazing. You can feel these people really love tennis there, and I really miss them.
"I really hope that I'll play there [in 2023], just because of the people, to feel this atmosphere. But if they're going to ban us again... I don't care about Wimbledon's decision. The only thing I'll miss is the people."
You can share this story on social media: