Messi injury sparks World Cup fears
Lionel Messi has suffered an injury scare just weeks out from the World Cup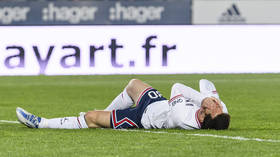 Fears have been raised as to Lionel Messi's fitness for this month's World Cup in Qatar, after the Argentine star was ruled out of Paris Saint-Germain's Ligue 1 trip to Lorient on Sunday with an achilles injury.
However, figures within the Parisian club have moved to soothe fears in the Argentina camp as to the severity of the injury and say that the multiple Ballon d'Or winner is expected to return to training next week ahead of being named in Argentina's World Cup squad ahead of the November 20 kickoff in Qatar.
Messi played the full 90 minutes in PSG's 2-1 Champions League win against Juventus on Wednesday, potentially suggesting that the 35-year-old's injury might only require minimal treatment – though it is the latest in what appears to be an expanding series of ailments suffered by the star forward.
He was ruled out of matches in both Ligue 1 and the Champions League last month after picking up a calf ailment which put a temporary halt to his impressive form this season, which has seen him claim 12 goals and 14 assists in just 18 games so far.
Superstar Messi spoke last month of his concerns of injuries impacting Argentina's chances at the tournament as they look to emulate the Diego Maradona-led win from 1986.
"Injuries are a worry," he said, prior to his achilles ailment.
"This is a different World Cup which is played at a different time of the year to previous tournaments and it's so imminent any little thing that happens to you can force you out.
"It's something you think about but I feel going out to play with that in your head can be contradictory as well.
"The best thing you can do is perform as normal and play your game as you always do."
Copa America holders Argentina are among the most in-form teams due to take part in the World Cup but are dealing with an expanding list of injuries in the weeks before the tournament.
Paulo Dybala and Angel Di Maria both remain in doubt after picking up injuries recently, while Tottenham Hotspur defender Cristian Romero also faces a race against time to be fit to travel to Qatar.
Another Argentina regular, Giovanni Lo Celso, also recently suffered a torn quadriceps in his right leg which has put his World Cup in serious doubt.
Argentina will compete in Group C against Saudi Arabia, Mexico and Poland, playing their opening game against Saudi Arabia on November 22 at the Lusail Stadium.
You can share this story on social media: