Is this Russia's next UFC megastar?
Islam Makhachev is aiming to become UFC champion in Abu Dhabi this weekend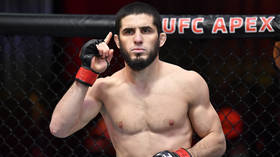 On Saturday night in Abu Dhabi, Russia's Islam Makhachev will aim to fulfil a prophecy when he fights Charles Oliveira for the vacant lightweight title in the main event of UFC 280.
For several years, the Dagestani-born Makhachev has been cited as the one true successor to his friend and training partner Khabib Nurmagomedov, with some even saying that the arsenal of weapons which Makhachev boasts supersedes that of the undefeated mixed martial arts icon Khabib.
But for prophecy to become reality, Makhachev must pass the toughest test of his career to date when he tangles with Brazilian submission artist Oliveira – perhaps the only man in the UFC who has the credentials to pose serious problems to the Russian on the mat.
Oliveira has his own designs on greatness, too, having captured the lightweight title vacated by Khabib and then defending it, only to be stripped of the crown on the weighing scales before his last trip to the Octagon back in May.
The desire burns inside the Brazilian to rectify that perceived injustice, while Makhachev is aiming to step from under the wings of his mentor 'The Eagle' and forge his own history.
Assemble the various pieces, and you have a fight between two of the world's best competitors dueling to follow Khabib as their division's next dominant champion
You can share this story on social media: