Weight-cut woes and blood-curdling battle cries: What next for Chechen UFC star Chimaev?
The Chechen star's surge up the rankings may have hit its first roadblock at UFC 279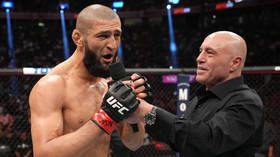 Khamzat Chimeav was poised to claim the biggest win of his career at UFC 279 in Las Vegas last weekend, but his missing weight on the eve of his contest with Nate Diaz saw him deposed from the main event, branded a 'scared rookie', and drew the considerable ire of UFC president Dana White.
The Chechen-born fighter eventually turned in another dominant performance in a short-notice replacement fight, improving his unbeaten record to 12-0, but the deviation from the UFC's script could well leave Chimaev with some work to do to regain his momentum – and the UFC's faith in him.
You can share this story on social media: