Ronaldo apologizes to autistic fan for phone smash (VIDEO)
The incident occurred after Manchester United's 1-0 defeat to Everton on Saturday and is being investigated by Merseyside Police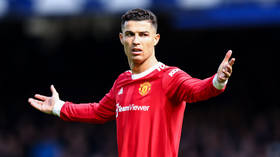 Cristiano Ronaldo apologized to a young fan after his phone was smashed following Manchester United's embarrassing defeat to Everton on Saturday, with the boy's mother claiming Ronaldo assaulted her son and left his hand bruised.
The Portuguese's second spell at Old Trafford continued to worsen as the Red Devils lost 1-0 to the relegation-threatened Toffees and slipped further away from Champions League qualification next season in the Premier League table.
Controversy also struck for the 37-year-old after the full time whistle when a widely-circulated clip seemed to show him knocking a young fan's phone towards the ground while he trudged off the pitch and headed down the tunnel.
Later, to his 424 million followers, the five-time Ballon d'Or winner addressed the row and apologized on Instagram.
"It's never easy to deal with emotions in difficult moments such as the one we are facing," his post began.
"Nevertheless, we always have to be respectful, patient and set the example for all the youngsters who love the beautiful game.
"I would like to apologize for my outburst and, if possible, I would like to invite this supporter to watch a game at Old Trafford as a sign of fair-play and sportsmanship," Ronaldo concluded.
Yet the apology might not be enough to keep the number '7' out of trouble, given that Merseyside Police are investigating the incident.
"We can confirm that we are liaising with Manchester United Football Club and Everton FC following reports of an alleged assault at the Everton v Manchester United football match at Goodison," a statement from them read.
"As players were leaving the pitch at 2.30pm, it was reported that a boy was assaulted by one of the away team as they left the pitch.
"Inquiries are under way and officers are currently working with Everton Football Club to review CCTV footage and are carrying out extensive witness inquiries to establish if an offense has taken place," it concluded.
As United and the English FA confirmed that they would look into the matter too, the boy's mother spoke to the Liverpool Echo after complaining on social media and said that her autistic 14-year-old son Jake Harding was left "in complete shock" and "bruised" by the incident.
"At full time the Man United players started walking off. We were in the Park End so we were right by the tunnel where they came walking past – my son was there videoing them all," Sarah Kelly explained.
"He filmed all the United players walking through. And then he lowered his phone because Ronaldo had pulled down his sock and his leg was bleeding. He lowered his phone to see what it was – he didn't even speak.
"Ronaldo then just walked past, with a terrible, terrible temper and smashed the phone out of my son's hand and carried on walking," Kelly claimed, while also sharing pictures of a bruised hand to the local paper which she says was caused by Ronaldo.
"You can see by the bruise that he's made contact. I just can't believe I'm talking about it. I was crying, I was shook up, Jacob was in complete shock – he's autistic and he's got dyspraxia as well, so he didn't really digest what was happening until he's come home now," Kelly went on.
"He's really upset about it and it's completely put him off going to the game again. This is the first football game he's been to and this has happened.
"We had an absolutely brilliant day up until those final few seconds when they came off the pitch. It's completely ruined the day and put a bad taste in our mouth," Kelly lamented.
"He's an autistic boy and he's been assaulted by a football player, that's how I see it as a mum," she finished.
You can share this story on social media: