F1 chiefs terminate Russian Grand Prix contract
Formula 1 has ended its Russian relationship in the wake of the Ukraine conflict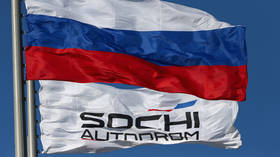 Days after it was revealed that this season's Sochi Grand Prix was to be shelved following Russia's conflict in Ukraine, Formula 1 chiefs have announced that they have terminated their contract in Russia after determining that racing in the country is no longer viable.
The Russian Grand Prix was due to move to St. Petersburg in 2023, with this no longer happening despite it reportedly being one of the most financially lucrative races on the F1 annual calendar.
Russian President Vladimir Putin was key in establishing the race in 2014 in Sochi after the Winter Olympic Games were held in the region, but the decision means that F1 will now leave Russia for an indeterminate period.
The decision comes shortly after the FIA announced that it would continue to allow Russian drivers to compete in global motorsports, and represents a rare difference of opinion between Formula 1 and its governing body.
It also comes days after the UK's national motorsport authority announced a ban on all Russian drivers. The FIA, meanwhile, said that Russian drivers such as Haas' Nikita Mazepin will be forced to race under a neutral flag.
The FIA defended its stance, which has drawn criticism in some quarters for not being as stern as the types of penalties issued by the likes of FIFA and UEFA, which have indefinitely banned Russian teams from competition, saying that their punishments are in line with those recommended by the International Olympic Committee (IOC).
However, this week the IOC - to which the FIA has official links - introduced a wave of new measures to punish Russian and Belarusian athletes, saying on Tuesday that "event organizers not invite or allow the participation of Russian and Belarusian athletes and officials in international competitions… in order to protect the integrity of global sports competitions and for the safety of all participants."
Competitors, though, could be permitted to compete under a neutral flag "wherever this is not possible on short notice for organisational or legal reasons."
Russian officials and athletes have widely criticized blankets bans and suspensions as being discriminatory and contradictory to the principle of keeping sport separate from politics.
Lewis Hamilton was the last winner of the Russian Grand Prix, beating Max Verstappen and Carlos Sainz Jr. into second and third respectively in the race which took place in Sochi on September 26, 2021.
You can share this story on social media: