Russian tennis star Rublev demands 'no war please' in TV protest (VIDEO)
Moscow native Andrey Rublev appeared to make his opposition to the ongoing conflict in Ukraine clear after winning a match in Dubai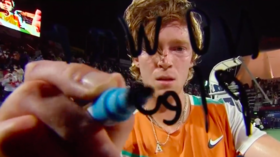 World number seven tennis star Andrey Rublev has called for the conflict in Ukraine to end following his victory against Poland's Hubert Hurkacz in the semifinals of the Dubai Championships on Friday.
Rublev advanced to the final with a 3-6, 7-5, 7-6 (5) win against his rival before approaching a television camera and writing 'no war please' on the lens.
The 24-year-old's gesture comes after he said this week that he was receiving a torrent of negative messages on social media as a result of the Russian military campaign in Ukraine.
"In these moments, you realize that my match is not important. It's not about my match, how it affects me," the second seed at the tournament said after previously beating Mackenzie McDonald in three sets.
"What's happening is much more terrible. You realize how important [it] is to have peace in the world and to respect each other no matter what, to be united. It's about that.
"We should take care of our earth and of each other. This is the most important thing."
After winning a doubles title with with Ukrainian Denys Molchanov at the Marseille Open last week, Rublev revealed: "Of course I get some bad comments on the internet because I am Russian, so I get some aggressive comments.
"I cannot react on them because if I react on them, I'm going to show the same.
"If I want to have peace, I need to be like it doesn't matter. Even if they throw rocks to me, I need to show I'm for the peace, I'm not here to be aggressive or something, even if I'm not responsible for something. I think this is the right way to do it – at least for me."
Rublev's comments come after the new world number one, Daniil Medvedev, said following his own semifinal win at the Mexican Open that he wants to "promote peace all over the world."
The International Tennis Federation has canceled an event scheduled to be held in Ukraine in April and said it was "closely monitoring" the "deeply concerning reality", PA reported.
The federation distanced itself from the politicization of sport but said it would look at events due to be held in Russia with a view to prioritizing the health and safety of players and staff at tournaments.
Rublev will face Novak Djokovic conqueror Jiri Vesely or Denis Shapovalov – a Canadian born to a Russian father and Ukrainian mother – in the tournament final on Saturday.
You can share this story on social media: