Why is Novak Djokovic set to be deported from Australia?
World number one Novak Djokovic has been denied entry into Australia – but how exactly did it come to this?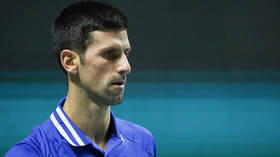 Novak Djokovic has been central to the first sporting scandal of 2022 as the Serbian ace faces being barred from entering Australia ahead of what could have been a record-breaking appearance at the Grand Slam in Melbourne.
The row has triggered a diplomatic spat between Serbia and Australia as well as an avalanche of reaction across the media.
Here, we look at the key questions and the state of play surrounding the Serbian tennis icon.
You can share this story on social media: