Aussie firebrand Kyrgios in U-turn after shocking fans with Djokovic comments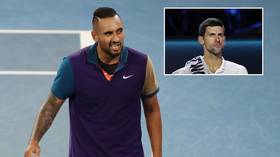 Local hero Nick Kyrgios says it would not be "morally right" to allow unvaccinated tennis stars to play the Australian Open in January, while backtracking on remarks that the entire event should be scrapped.
Kyrgios had previously suggested on his 'No Boundaries' podcast that the season-opening slam in Melbourne should not go ahead, while expressing support for unvaccinated players.
"I don't think the Aus Open should go ahead, just for the people in Melbourne – you've got to send a message," Kyrgios had said.
"How long did (Melbourne) do in lockdown? 275 days or something?"
However, the 26-year-old now claims he does want the showpiece to proceed – but with the caveat that any unjabbed stars should not be allowed into the country.
"Just for clarification, to say that I'd want the Australian Open canceled, I think that was the sentence that got taken out of context," Kyrgios said on his Instagram stories on Tuesday.
"It's more so for the people of Melbourne who have gone through hell and back.
"I think it's been 275 days of lockdown and your freedom has been, you know, taken away from you.
"I don't think it's morally right to accept players from overseas that aren't vaccinated to come into our country and waltz around Melbourne [with a] free will.
"But for players who are vaccinated, I think that's an amazing opportunity to get the people of Australia and the city of Melbourne back together for such an amazing sporting event," added the former world number 13.
Kyrgios has been a vocal proponent of Covid vaccination and border restrictions.
He famously labeled Novak Djokovic a "tool" earlier this year and vocally criticized the Serb for pressing ahead with his ill-fated Adria Tour amid the pandemic last summer.
The Australian, however, had surprised some fans by appearing to soften his stance on his podcast, asserting that it was wrong to force people to be vaccinated while referencing basketball star Kyrie Irving and 20-time Grand Slam king Djokovic.
"Kyrie, Novak … These guys have given so much, sacrificed so much. They are global athletes who millions of people look up to," Kyrgios said.
"I just think it is so morally wrong to force someone to be vaccinated. I'm double vaccinated, but I just don't think it's right to force anyone (to be vaccinated) and say 'you can't come and play here because you're not vaccinated'.
"There are other solutions around it, (such as) to get tested every day. In the States I know they've got rapid tests, and it's coming to Australia. It's 85% success rate, you wait 15 minutes and then you're allowed to play."
Kyrgios' most recent comments appear to row back significantly on that stance.
Djokovic has refused to reveal his vaccination status and says he will decide on his participation at the Australian Open once the rules have been clarified.
READ MORE: 'We have to trust the doctors': Tennis legend Nadal calls unvaccinated people 'selfish'
Local officials have squabbled over the issue of allowing unjabbed players to attend, with Prime Minister Scott Morrison saying they would while the premier for the state of Victoria, Daniel Andrews, has ruled out exemptions for any players yet to take the step.
Russian world number two Daniil Medvedev recently announced he would be playing in Melbourne. Medvedev has not revealed his vaccine status directly, but said that anyone at the Australian Open would "clearly be vaccinated."
You can share this story on social media: