'My vacation was in Mecca': Devout Muslim Nurmagomedov reveals religious trip to Saudi Arabia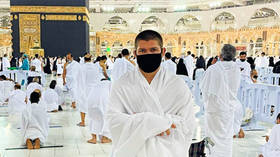 Ex-UFC champion Khabib Nurmagomedov has shared a photo from one of the holiest sites in the world for Muslims after thanking god for his "lucky" mentorship from his late father.
The 29-0 retired lightweight great was recently in Mecca, which was reputedly the birthplace of the prophet Muhammad and plays host to important landmarks such as the Ka'bah at the Great Mosque, which Khabib was snapped in front of.
Nurmagomedov completed the Hajj pilgrimage to the Saudi Arabian city as millions of Islam worshippers do every year as a mandatory religious duty, while wearing white robes that make all Muslims equal.
When he criticized French president Emmanuel Macron for his comments about Islam in November 2020, Nurmagomedov said: "We are Muslims, we love our Prophet Muhammad (peace and blessings of Allah be upon him) more than our mothers, fathers, children, wives, and all other people close to our hearts".
His photo was liked by almost 600,000 of his more than 31 million followers in just an hour, with high-profile names such as ex-Manchester United star Patrice Evra leaving comments.
"Mashallah," said the Frenchman, which means "what God has willed".
Over the weekend, Nurmagomedov also shared a photo of social media sensation Hasbulla wearing a hoodie and baseball cap, and paid tribute to his dad and legendary fighter Magomed Magomedov.
The Russian was the first sambo title winner for Nurmagomedov's father – revered late coach Abdulmanap, who passed away from covid complications last year – and clearly had a huge influence on the future UFC champion growing up.
"I looked at Magomed and Father, who went out onto the [stage] and simply did not [fear] their rivals and thought: is it really possible to get to such a level?," Nurmagomedov said.
"How do they all do this, how can they perform in front of such a large audience?
"How do they manage to tune in and win? Are they really not nervous or do they not feel fear and pain? There were many questions in my head.
"I was 15 years old then and I did not understand a lot of things, but Father told me: 'if you really want this and are ready to go to the end, you will also succeed.'"
"Father just [told me] everything. [It was] nothing complicated: you train, sleep, read and eat and are not distracted by anything, and you repeat the same thing every day.
"His signature words were: 'do not try to prove to me or tell me what is on your mind, but just do what I tell you.'
"Alhamdulillah [praise to god], I am very glad that Father was always there and always guided and showed me how and what to do. I was really lucky to have such a mentor."
You can share this story on social media: