'Chechnya knows': McGregor claims Chimaev offered help before Nurmagomedov fight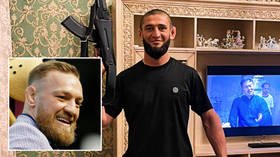 UFC sensation Khamzat Chimaev held up a gun as he called out Conor McGregor and Nate Diaz, earning a response from the Irishman namechecking Chechen leader Ramzan Kadyrov's MMA club.
The hunt for Chimaev's next opponent is on after he annihilated Li Jingliang at UFC 267 last month, with the unbeaten powerhouse leading the taunts as he targets new victims.
The Sweden-based star's scattergun approach to challenging potential rivals took on a literal angle as he held up a rifle while warning Diaz that he is ready to fight him.
When Chimaev told McGregor the pair should "make big drama show", the former champion – never reluctant to fire shots on social media himself – reacted in style.
"Bratha, no problem," said McGregor, in what could be interpreted as a send-up of Chimaev's distinctive way of speaking.
McGregor then appeared to refer to his title fight with former nemesis Khabib Nurmagomedov.
"I appreciate you reaching out to the team in 2018 to come and help me beat up the little scared pigeon b*tch," he said in a now-deleted tweet.
"Chechnya knows. F*ck those [Nurmagomedov nickname] Eagle MMA p*ssies."
Contender Chimaev has a close relationship with Kadyrov, who runs the Akhmat MMA organization.
"We are Akhmat MMA," declared McGregor. "Smash them up, we will. Let's go. The Mac and Akhmat. We take no sh*t. Never peace."
Chimaev responded by laughing at the surprisingly enthusiastic response from the most lucrative active name in the sport.
Given Chimaev's appetite for taking the briefest of breaks between fights, it seems unlikely that he will face McGregor anytime soon.
McGregor is still recovering from a severe injury he sustained in his knockout defeat to Dustin Poirier in July.
MMA account Frontkick suggested on Sunday that Chimaev could take on welterweight number two Gilbert Burns, who has expressed an interest in meeting him.
"Talks are, in fact, ongoing," the outlet said, citing sources. "Not done, but likely to get booked.
"The plan seems to be January rather than December – but again, nothing signed or set in stone as of now. Developing."
You can share this story on social media: