Anti-vaccination protesters must stop using haka dance synonymous with New Zealand sports, urges tribe (VIDEO)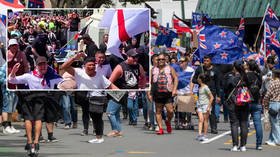 Vaccine skeptics who have used the haka made famous by New Zealand's rugby union team have been told to stop performing it at protest events, with the tribe behind the ritual calling jabs "the best protection we have".
The Ngati Toa are the cultural guardians of the dance, which rugby fans know best as the foot-stomping, wide-eyed pre-match hallmark of the All Blacks.
In recent weeks, though, the haka has also been used during vaccine protests – including a notable appearance during a demonstration against lockdowns and vaccination mandates outside the Wellington Parliament last week.
There have been 9,000 Covid cases and 34 deaths in New Zealand, where Prime Minister Jacinda Ardern recently insisted that teachers and health and disability sector professionals will need to be fully vaccinated against Covid.
Measures introduced by Ardern's government, which has dropped its 'zero-Covid' strategy in an acknowledgement that the virus is unlikely to ever be fully eradicated, were the subject of the protest by around 2,000 people.
"I always love watching my Polynesian brothers doing the Haka during protests against vaccine mandates," said one viewer on social media.
Ben Shields, a journalist opposing the "superficial garbage" of the mainstream media, added: "I think protests worldwide would be a lot more effective if they all did this. Keep the heat on those pushing for vaxx passports."
The tribe, however, is less impressed. The traditional form of the haka – known as the Ka Mate – was expertly performed at the group's latest vaccination event on Saturday.
"Our taonga [treasured possession] is not for others to use to promote messages that are dangerous for our whanau [community]," it emphasized.
Chief executive officer Helmut Modlik has gone further in a statement which has earned ample media attention.
Modlik condemned the use of the haka to "push and promote anti-Covid-19 vaccination messages" and reaffirmed the tribe's endorsement of jabs.
"Many of our tupuna [ancestors] lost their lives in previous pandemics," the announcement said.
"We are absolutely clear that the Covid-19 vaccine is the best protection we have available to us, and we are committed to supporting our whanau to get vaccinated as soon as possible."
While New Zealand is targeting a vaccination rate of 90% among its eligible population, only 61% of those are fully vaccinated, with 77% receiving a first dose.
"We shall see what happens but hopefully this will send out a clear message that it's not socially normative for anti-vaxxers to use the Haka," said a psychologist on social media.
"[It is] not endorsed by the psychological group with which it is most closely identified."
An anti-fascist action group operating in Australia and New Zealand tweeted: "We tautoko [support] Ngati Toa for resisting the conspiracist creep.
"One way that anti-vaccine conspiracy theorists have been trying to expand their movement is through co-opting Maori symbols, concepts and culture such as the Ka Mate haka."
You can share this story on social media: