Is Moscow-linked Ralf Rangnick the man to save Manchester United?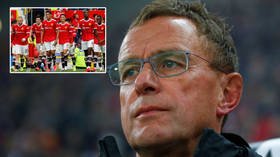 Ralf Rangnick is a godfather figure in Germany and a coaching mastermind known for his holistic philosophy. Should Manchester United turn to him, that move in itself would be a seismic switch from England's most high-profile club.
Revered by the likes of Bayern Munich boss Julian Nagelsmann and Liverpool manager Jurgen Klopp, Rangnick has been the subject of repeated explainer articles in the Manchester media in recent weeks, evidently hedging their bets that the man who signed a three-year deal at Lokomotiv Moscow in the summer will be asked to salvage United from their current malaise.
His role at the Russian Premier League club, where he is the Manager of Sports and Development, may hint at part of any reluctance United might feel to approach Rangnick.
Rangnick has a wide-ranging role at Lokomotiv which included the recruitment of manager Markus Gisdol, with whom he had worked at Hoffenheim and Schalke 04, before the start of this season.
Currently five points shy of leaders Zenit, Lokomotiv are hoping that Gisdol will be as successful as Rangnick appointments at his previous clubs such as Roger Schmidt, who led Leipzig to an emphatic, power-shifting league win as part of a double in 2014.
Employing Rangnick in a commanding, consultant-style appointment would clearly require a considerable mindset shift from United's hierarchy, where the manager's job is currently demarcated within the boundaries of the training ground and technical area.
The caricatured version of current United boss Ole Gunnar Solskjaer as a smiling yes man is too simplistic. Rangnick's high-profile failure to complete negotiations to become AC Milan boss, though, seems a world away from Solskjaer's understated managerial presence.
When his move to the Italian giants was abandoned during the 2019/20 season, Rangnick hinted to Mitteldeutsche Zeitung: "If, theoretically, I have to think about going somewhere else, I should to be able to do things my way."
Technical Director Paolo Maldini was less subtle. "Speaking of a role with full managerial powers in both the sporting and technical areas, he invades areas where professionals with regular contracts work," said the Milan legend, bluntly adding that Rangnick should "review the general concepts of respect".
Rangnick has since claimed that the move fell through amid the uncertainty shrouding Serie A at the height of the pandemic and Milan's subsequent dazzling renaissance at the start of 2020.
That seems plausible given the title-challenging form which Milan struck upon, but his public exchange with Maldini lifted the curtain on the executive role he would want at United.
There is nothing necessarily wrong with that: among his many successes so far, lifting Leipzig from the fourth tier to the Bundesliga, in particular, would not have happened without Rangnick enforcing over-arching ideas that were broadly shared right across the club under his orchestration.
It is hard to imagine Rangnick proteges such as Klopp and Nagelsmann deferring to anyone above them on most issues, such is their force of personality.
The same cannot be said of Solskjaer, with United routinely accused of lacking a definitive vision on the signings they want to bring in and the way they want to play.
United were considered entertaining, chaotic freestylers until they lost 2-0 at home to Manchester City in their most recent Premier League match, when they appeared so devoid of any purpose or attacking edge that it seemed inconceivable they will challenge the current champions anytime soon.
For better or worse, Rangnick – a mastermind of the devotion to pressing which helped Klopp to end Liverpool's decades-long wait for a Premier League title – would give United a clear identity. And in essence, an all-encompassing identity is what proponents of Rangnick as the club's new leader mean when they argue for his appointment.
United's approach to transfers, which has been much-maligned as taking a frequently scattergun ethos, would be reined in by Rangnick partly because of his belief in employing scouts who look at prospective players in the same way that he does.
Liverpool pair Roberto Firmino and Sadio Mane were each signed by Hoffenheim and Red Bull Salzburg for less than the price that it would cost United to pay off beleaguered Solskjaer.
When he joined Chelsea in 2020, Germany striker Timo Werner cost around three times as much as Leipzig paid for him four years earlier.
While Rangnick is sufficiently pragmatic to name cash as one of his three 'c's' – the other two are 'competence' in every area of a club and a 'culture' which makes it distinguishable on and off the pitch – his involvement would probably end United's current public perception as the benefactors of a blank chequebook.
Despite their inertia in recent years, United remain the club with the highest turnover in England. Rangnick prides himself on spotting and developing players to ultimately bring in profits. An element of prudence would be revolutionary in the scheme of United's recent history.
Current favorite Brendan Rodgers, the out-of-work Zinedine Zidane and PSG boss Mauricio Pochettino are more traditional managers. The leap of faith involved in picking coaches who would be less controlling, perhaps as a result of being in their late 40s rather than the 63-year-old Rangnick, would be an understandably more straightforward option for the United board.
On the other hand, turning to Rangnick would arguably be less of a risk than repeatedly veering from one contrasting manager to the next. The three coaches appointed since the club last won the Premier League title under Sir Alex Ferguson in 2013, Louis van Gaal, Jose Mourinho and David Moyes, testify to a non-existent masterplan behind the scenes.
United are nine points behind leaders Chelsea already this season and increasingly look like a club being left behind on the pitch and the sidelines. Ironically, Chelsea boss Thomas Tuchel has said he was influenced by Rangnick while playing for him at third-division Ulm, and he later took the job at Stamford Bridge after Rangnick said he had turned it down.
Pep Guardiola's dogma at City is likely to resonate long after he leaves the club. The same cannot be said – in a positive context, at least – for any recent United boss except Ferguson.
United need only look at Klopp's achievements to see what might be within their grasp. Fans are weary of appointments aimed at providing an instant hit, yearning for signs of a long-term plan.
When Solskjaer's job became seriously under threat after the 5-0 home defeat to Liverpool, United went on to win comfortably at Spurs, snatch a fortunate draw at Atalanta and lose limply to City.
It is not unlikely that a similar pattern will ensue when they visit Watford, Villarreal and Chelsea after an international break that some thought Solskjaer would not survive.
Should that run of results repeat itself as the quality of opposition stiffens, it would be a fascinating – if unlikely – twist for United to turn to Rangnick. If the faltering giants want to show ambition beyond the next quick fix, giving Rangnick the major managerial challenge that he has implied he would be willing to consider would be a statement of intent and a concession that the power balance within the club is open to change.
By Ben Miller
You can share this story on social media: