Muscled out: Legendary ski superstar reveals she felt focus on her ripped body 'bordered on bullying' after Olympic heroics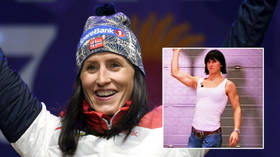 A Norwegian sporting legend who is one of the most successful skiiers of all time has admitted that she found the attention on her muscular physique unsettling after becoming a celebrity in the aftermath of winning Olympic gold.
Eighteen-time world champion Marit Bjorgen shot to fame when she won three titles at the Winter Olympic Games in 2010, following up the four world titles she had already won by that point.
The leading medalist at that showpiece and five-time Olympian says she was disturbed when she appeared on a talk show after her success in Vancouver, when she was surprised to be asked to flex and show off her rippling biceps.
When she wore a sleeveless dress to a sports gala in 2012, Bjorgen's burgeoning arm muscles were snapped by photographers as she lifted up a trophy.
Bjorgen describes herself as "completely taken aback" by the direction of the interview, adding in her new autobiography, as seen by Aftenposten, that she was "worried she said she did not like to show off muscles that way."
According to her purported account, the infamous image reached social media and was "linked to old doping allegations" in Finland, while she was "advised to dress differently" and contacted by Norway's largest fashion website, which advised her to dress in a way that did not accentuate her impressive muscles and insinuated that stylists wanted to help her.
"I'm glad I was 30 years old and hard-skinned," Bjorgen said, describing some of the responses to have "bordered on bullying" at a time when she felt body image and food were sensitive topics on the Norway team.
In one of the more worrying episodes of her illustrious career, the sensation who is arguably Norway's most popular athlete has also recounted a doping scare when the team doctor called her in 2017 to "ask me if I was alone in the house."
"He told me that he had received a communication from the FIS [International Ski Federation]," she recalled of a discrepancy in a urine sample taken after a race.
"I started having stomach cramps and crying. He told me to calm down because the FIS was only asking for an explanation."
Bjorgen feared the worst after traces of a metabolite of nandrolone were detected, although the doctor explained that it could have come from a drug used to relieve pre-menstrual symptoms.
"I had to explain when I started taking the drug, when I stopped and the amount I took day by day," she said.
"It took two weeks, which was hell for me. A few months earlier there had been the Therese Johaug doping case [when the three-time Olympic champion was suspended for 18 months for a performance-enhancing drug], and it had caused a sensation.
"I was wondering what my press conference would be like to explain everything, if people would believe me.
"You cannot imagine the relief when the FIS communicated that the explanation provided was satisfactory and there was no need to open any anti-doping law infringement procedure."
The concentration was deemed to have been too high because of the fluids Bjorgen had lost during a race.
Bjorgen was a two-time gold medalist at the 2018 Games, announcing her retirement at the end of that season before recently revealing plans to return to action next year.
Also on rt.com
US running starlet files $20MN lawsuit against Nike & coach who 'warned her breasts & bottom were too big' & 'called her too fat'
You can share this story on social media: