WATCH: Fire breaks out at iconic Superdome in New Orleans as flames and smoke seen billowing across city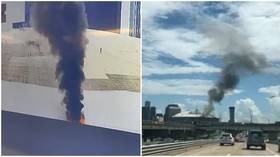 One person was injured after a fire broke out on the roof at the iconic Caesars Superdome in New Orleans before the blaze was brought under control, local media have reported.
Footage shared on social media showed flames and black smoke billowing from the stadium, which is in the Central Business District area of the city and is home to NFL team the New Orleans Saints.
The fire was also seen from a distance by motorists in the area.
The Superdome venue has a capacity of around 75,000 fans for football games, and is a multi-purpose center used by a host of other teams and businesses.
The New Orleans Fire Department said it had responded to the incident at just before 1pm local time, but no immediate details were made available, according to US media.
Several people appeared to be on the roof in the vicinity of the fire in clips shared on social media.
Fox 8 Live reported that renovations to the roof of the venue had recently restarted following an interruption by Hurricane Ida.
The venue is among the most iconic in US sports and was previously renamed to the Mercedes-Benz Superdome after sponsorship rights were sold in 2011.
This July it was renamed again to the Caesars Superdome when those rights were bought by casino and hotel giant Caesars Entertainment.
Local reporter Jeff Duncan quoted a Superdome official as saying that the fire had originated "in the gutter tub" on the roof while workers were pressure washing it, but that the incident is under control and the structural integrity of the building was not compromised.
It was later reported that around 70 employees were working inside the building at the time of the fire and were evacuated, but were subsequently allowed back inside.
One worker is said to have been transported from the scene with minor burns to their face, arms and chest, although is expected to recover.
You can share this story on social media: