Gold-en boy: Khramtcov honors late mother after sealing first Russian taekwondo gold despite breaking arm 2 months before Olympic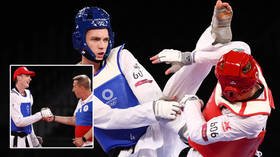 The 16th major gold medal of Russian Maksim Khramtcov's career could prove his most memorable after the 23-year-old won the 80kg taekwondo title at the 2020 Olympic Games, with the quick healer dedicating victory to his late mom.
The popular Nizhnevartovsk-born taekwondoin beat Jordanian Saleh Elsharabaty on Monday to continue a memorable day for his nation after Russians scooped the all-round artistic gymnastics title and Sofia Pozdniakova won the all-Russian women's individual fencing final against Sofya Velikaya.
Grinning Khramtcov embraced Elsharabaty after becoming the third Russian taekwondo star to win a medal in Japan, following Tatiana Minina's silver at 57kg and Mikhail Artamonov's bronze at 58kg.
Khramtsov admitted that he had not expected to be able to make the Games after he broke his arm in May.
"I just tried to quickly heal my hand," the swift recoverer told Championat. "I ate calcium, did exercises after removing the splint. I was sure that everything would be fine.
"Three weeks before leaving here, I... felt that pain. Here, I hit my opponent in the first fight – and again, I felt that pain. I do not know what is there, but the symptoms are similar.
"I just went out and did my job. I haven't realized what I've done yet. My emotions are about the same as they were when I won the World Cup in 2017. The next Olympics in three years, we will prepare for it.
"I dedicate the victory to my mother, who passed away six months ago. I remember her before every fight. I saw that [my opponent]... was more tired than me. I got in before him and everything was under control."
Four Russians had previously taken to the taekwondo podium: Natalya Ivanova won silver in 2000 and was emulated by Alexei Denisenko 16 years later, while Aleksey Denisenko and Anastasia Baryshnikova captured bronze in 2012.
Croat Toni Canaet and Egyptian Seif Eissa took bronze in Khramtcov's division.
Also on rt.com
Sabre-rattling Russians: Pozdniakova hugs ex-champ dad after winning all-Russian Tokyo Olympics fencing against Velikaya (VIDEO)
You can share this story on social media: