'Absolutely embarrassing': Fans slam UEFA's meek non-punishment for European Super League rebels Juventus, Real Madrid & Barcelona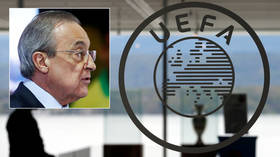 Football administrative body UEFA has been blasted online by fans who feel it has chickened out and failed to punish continental giants Juventus, Real Madrid and Barcelona for their failed plans to form a European Super League.
The three heavyweights of European football and key backers of the hugely controversial plans were believed to be facing hefty punishments for their part in the plot, ranging from large fines to potential exclusion from Europe's premier club tournament, the Champions League.
While the likes of Chelsea, Manchester City and Manchester United were among the members of the 12 founding teams to drop out amid fan fury, Madrid, Barca and Juve were the only teams who refused to renounce their plans and remain committed to some sort of separate new tournament exclusively held among the continent's elite.
"The UEFA Appeals Body has decided to stay the proceedings until further notice," the authority said in a statement that suggested the trio will now not face sanctions in the foreseeable future.
Winning a ruling from a top Spanish court in April that stated they cannot be punished by either UEFA or FIFA, Madrid's case has also been notified by a judge in the Spanish capital for the European Court of Justice in Luxembourg – demonstrating the influence of Real Madrid president Florentino Perez.
That injunction was delivered to FIFA's office via Swiss authorities last weekend, and means that UEFA will be liable to pay damages out to the three teams in question should they receive punishment.
UEFA's lawyers are currently in the process of appealing against the Madrid injunction, and are co-operating with Swiss authorities on the matter – which could explain their reluctance to advance with proceedings.
But that doesn't mean that the move hasn't been blasted by fans online, or mocked by others who expected little to no action to be taken.
"An absolutely embarrassing response," one said.
"[It's] clear where the power lies. These clubs should not be in European competition next season."
"It's all about money and audience power," another critic pointed out.
"UEFA know without the rich sh*t bags in the competition, it would seriously affect viewing figures around the world."
Another angered reader wrote: "Footy fans will never forget the way in which these clubs almost destroyed the very essence of the sport.
"They will never forget the way the so-called 'authorities' have bent towards their mutual self-centered interests with such tame 'punishment'. Seething."
An apologist for the clubs said: "Sorry to disappoint but they have not violated any rules and UEFA and Aleksander Čeferin, before threatening them, should have known that they have no authority to ban any of them.
"Unfortunately, Premier League clubs did not have courage to stand against that."
The six Premier League clubs who joined the league and then backed out – comprising Chelsea, United, City alongside Tottenham, Arsenal and Liverpool – have been fined a collective $30 million for their act by their domestic government bodies.
Under the terms of their agreement, they will face a $35 million fine each and be docked 30 points if they attempt to break away in the future.
In a joint statement, the FA and Premier League revealed that the clubs had "collectively agreed" to shell out the payment as "a gesture of goodwill".
The cash "will go towards the good of the game", entailing "new investment in support for fans", and will help fund grassroots and community projects.
"The six clubs involved in proposals to form a European Super League have acknowledged once again that their actions were a mistake, and have reconfirmed their commitment to the Premier League and the future of the English game," a statement read.
"They have wholeheartedly apologized to their fans, fellow clubs, the Premier League and the FA.
"The Premier League and the FA have worked closely together throughout this process, and this agreement brings both investigations into the matter to a conclusion."
Arch ESL critic and Manchester United legend Gary Neville called that punishment an "absolute embarrassment".
"Surely it should be $30 million per club," echoed a fan, while others suggested that the 30-point deduction should be introduced immediately.
Also on rt.com
Super League rebels Real Madrid, Barcelona and Juventus lash out at UEFA as they cling to project despite threat of two-year ban
You can share this story on social media: