'It's time for me to explain': Pele admits defeat and hails Ronaldo in all-time top goalscorer ranks but debate rages on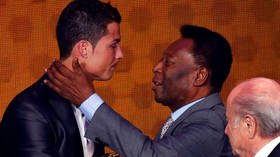 Football icon Pele has hailed Cristiano Ronaldo for breaking his record of goals in "official matches" after the Juventus ace's hat trick on Sunday took his tally to 770 - though considerable debate still remains.
Ronaldo's three strikes in just over 30 minutes of action against Serie A strugglers Cagliari took him past Pele's official total of 767, prompting the Brazilian legend to pen a glowing tribute to Ronaldo on Instagram.
"Life is a solo flight. Each makes his own journey. And what a beautiful journey you are having! I admire you a lot, I love watching you play and this is no secret to anyone. Congratulations on breaking my record of goals in official matches," Pele, 80, wrote online accompanied by a photograph of he and Ronaldo embracing.
"My only regret is not being able to give you a hug today. But I leave this photo in your honor, with great affection, as the symbol of a friendship that has existed for many years."
However, and despite Pele's glowing tribute to Ronaldo, the debate as to the identity of the sport's all-time top scorer seems set to rage on. Pele has previously claimed to have registered as many as 1,283 goals in total throughout his career (with that figure also boasted on his Instagram page), taking in strikes which he scored in what he referred to as "unofficial matches" - and since FIFA doesn't keep an official historical record of goalscorers, it is a debate which remains keenly contested.
Ronaldo had previously been hailed for reached the 760 goals mark - a figure which was though to have eclipsed the record set by Austro-Czech forward Josef Bican who played for various teams in Europe between 1931 and 1955. The celebrations were muted, though, after the Czech FA announced that a study had concluded that Bican had actually registered a total of 821 goals. This, however, is debated.
And in his own Instagram statement celebrating his goalscoring achievement, even Ronaldo acknowledged that it is a tricky subject.
"The last few weeks were filled with news and stats considering me the World's Top Scorer in football history, overcoming Pele's 757 official goals. Although I'm thankful for that recognition, now it's time for me to explain why I didn't acknowledge that record until this moment.
"My everlasting and unconditional admiration for mister Edson Arantes do Nascimento [Pele], such as the respect that I have for mid-20th century football, led me to take into account his 767 score, assuming his 9 goals for Sao Paulo State Team, as well as his single goal for the Brazilian Military Team, as official goals. The world has changed since then and football has changed as well, but this doesn't mean that we can just erase history according to our interests.
"Today, as I reach the 770 official goal in my professional career, my first words go straight to [Pele] . There's no player in the World who hasn't been raised listening to stories about his games, his goals and his achievements, and I'm no exception. And for that reason, I'm filled with joy and pride as I acknowledge the goal that put's me on top of the World's goalscoring list, overcoming Pele's record, something that I could never have dreamed of while growing up as a child from Madeira."
Also on rt.com
'The man is shameless': Football legend Pele rejects Ronaldo's claim to have broken his mammoth goal record by adding 526 to total
Some fans across Twitter have been harder to impress. One fan wrote online that Ronaldo's record contains numerous penalties which may have inflated his final tally, while another acknowledged the achievements of both Ronald and Pele - but suggested that the ongoing top goalscorer debate is little more than "insecurity from over-ambitious legends".
Ronaldo, now 36, also indicated that he has no intentions of slowing down - and that if indeed he truly is the most potent goalscorer in the sport's history, that record is going to stretch even farther before he is done.
"Believe me, this story is still far from being over," he wrote. "The future is tomorrow and there's still a lot to win for Juventus and Portugal."
Also on rt.com
Cristiano Ronaldo 'sends message to critics' after blasting 32-minute hat-trick as he puts Champions League woe behind him
You can share this story on social media: