New Barcelona president Joan Laporta 'targeting Erling Haaland & David Alaba' in Camp Nou overhaul despite reported debt of $1BN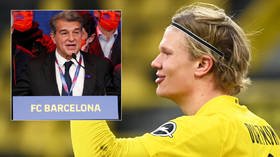 Joan Laporta, who served as Barcelona president between 2003 and 2010, will usher in a new era of signings at the Camp Nou, with reports that he is set to challenge Real Madrid for the signatures of Erling Haaland and David Alaba.
Laporta won a second term as president by claiming 54 percent of the 55,611 votes cast in last weekend's elections, running on a platform which heavily suggested that he may be able to convince club icon Lionel Messi to spurn the advances of Paris Saint-Germain and Manchester City this summer.
Messi, who is understood to have voted for Laporta, has been constantly linked to a host of European football's richest clubs since he attempted to engineer a move away from the Barcelona late last summer – a symptom, some suggested, of the club's plummeting form and repeated disasters in the transfer market.
Significant investment has been promised despite Barcelona reportedly being mired in heavy debt, with Spanish publication AS reporting that Laporta has already made contact with the agent of David Alaba as well as the man cited by most as the best young talent in world football, Erling Haaland.
Bayern Munich's Alaba is available on a free transfer this summer after signaling his intentions to leave the club he has represented for more than a decade while Haaland, another Bundesliga star, is thought to be available should the right – sufficiently eye-watering – price be proposed for the Borussia Dortmund star.
For any of this to become a reality, though, Laporta must first balance the books. Barcelona are reported to be in as much as $1.4 billion in debt, with around $317 million due to various financial institutions by June 30.
Another potential issue could be that of their arch-rivals Real Madrid, whose president, Florentino Perez, has also reportedly earmarked both Alaba and Haaland as the ideal reinforcements for Zinedine Zidane's squad.
Laporta, though, may have stolen a march on Madrid by already meeting with Alaba's agent Pini Zahavi, while also maintaining what was described as a "fluid relationship" with Haaland's representative, super-agent Mino Raiola.
While much of this sounds like good news for Barcelona fans, the reality of their financial situation means that some well-known faces will have to be shipped out of the club to make way.
Antoine Griezmann, Ousmane Dembele and Philippe Coutinho are all understood to be available this summer, and while the plan is to keep Messi at the club, if their skipper was to leave it was would free up his mammoth annual salary to be reinvested elsewhere.
It should perhaps be noted that during Laporta's first campaign to become Barcelona president nearly two decades ago, he ran on a promise to bring David Beckham to the club. Ultimately that didn't work out – the man who he opted for instead of the Englishman? Future Ballon d'Or winner Ronaldinho.
Also on rt.com
Abramovich 'green-lights swoop for Dortmund phenomenon Haaland' but deal would likely cost Blues upwards of €100 MILLION
You can share this story on social media: