US golfer Justin Thomas apologizes after mic catches star calling HIMSELF a 'f*ggot' after missing putt (VIDEO)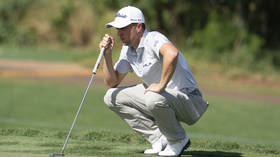 Justin Thomas, the world's third-ranked golfer, has issued an apology after he was caught referring to himself with a homophobic slur after missing a four-foot putt at the Sentry Tournament of Champions in Kapalua, Hawaii.
The 27-year-old Thomas, winner of 13 PGA Tour events, was overheard on The Golf Channel muttering the word "f*ggot" to himself after missing the short putt, but was immediately apologetic when he realized his faux pas, admitting his embarrassment at the incident.
"There's just no excuse. I'm an adult, I'm a grown man," the remorseful Thomas later said.
"There's absolutely no reason for me to say anything like that. It's terrible. I'm extremely embarrassed. It's not who I am. It's not the kind of person that I am. But it's … unfortunately, I did it and I have to own up to it and I'm very apologetic.
"Like I said, it's in excusable. I'm speechless. … it's bad. There's no other way to put it. I need to do better. I need to be better. It's definitely a learning experience.
"I deeply apologize to anyone and everybody who I offended and I'll be better because of it."
Twitter, as ever, was split on Thomas' indiscretion, with some suggesting that the furore over his use of the word was overblown - while others suggested that there was no place in sport for language of this type.
It was reported by ESPN that Thomas is likely to be issued with a fine due to his transgression by the PGA Tour, who also released a statement in which they were fiercely critical of Thomas' actions.
"As he expressed after his round, we agree that Justin's comment was unacceptable," they said.
Despite the missed putt and the ensuing media frenzy, Thomas hit a five under par third round on Saturday to to move to 17 under for the tournament, four points behind leaders Ryan Palmer and Harris English as they head into Sunday's final day.
Also on rt.com
'Should be banned for a season with no pay': Fans fume after footballer who hurled homophobic slur at gay player gets 6-game ban
You can share this story on social media: