'He's fully committed, an example to everyone': Ronald Koeman HAILS Lionel Messi's attitude as Barca's season builds momentum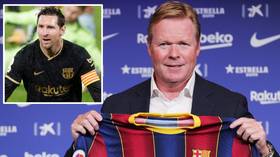 New Barcelona boss Ronald Koeman has labeled Lionel Messi an ideal captain and a great example to his teammates after the Argentinian ace has buckled down and applied himself after a turbulent summer period.
Messi went public with his unhappiness with the Catalan club as he demanded a move from the Camp Nou. But, despite he and his advisers believing he would be free to leave the club in the off-season, a contractual stipulation meant he missed his window to leave and would have to remain at the club unless a team met Barca's release clause.
Since declaring his intention to stay this season, Messi has returned to the squad and on Thursday night put in an impressive performance to help his team to a 3-0 win over Celta Vigo, despite the team having 10 men with the entire second half.
Also on rt.com
Lionel Messi says he 'always had the club's best interests in mind' despite demanding EXIT from Barcelona
Messi's leadership and performance earned rave reviews from Koeman, who hailed his star player's attitude and application since the Dutchman took over at the club.
"From day one Leo has trained and played well and has given the maximum for the club, for his team and for his teammates and I have had no complaints about him on any day," Koeman told the media ahead of Barca's La Liga clash with Sevilla at home on Sunday.
"He proved himself once again the other day against Celta, he pulled his weight as a captain, he helped the team play the ball out from the back because it's so important to keep the ball when you have one less player.
"There's no debate, for me he has always been the best player in the world, I thought that before from the outside and I think it even more now I'm working with him. He's fully committed, he's an example to everyone as a captain should be."
Also on rt.com
'I have no doubts': Koeman insists Messi is fully committed to Barcelona cause despite fury over Suarez exit
Koeman also had praise for Philippe Coutinho, who returned to the club after his loan stint at Bayern Munich, who he helped to the UEFA Champions League last season.
Coutinho had struggled to make an impression at Barca, leading to his loan spell in Germany, but upon his return he has impressed Koeman, who praised the Brazilian playmaker and said he hopes to bring the best out of the former Liverpool man.
"Coutinho is a very good player, he has learned a lot in England and with Bayern and my job as a coach is to get the best out of each player and find their best role," he said.
"A coach can help but it all starts with the quality of a player and Coutinho is a great footballer."
Koeman also revealed that the club hopes to add to his squad, with a striker and a center half on his shopping list before the transfer window closes.
One name he confirmed an interest in was Manchester City's Eric Garcia.
"We would like to sign this player, we have four center backs and we are short there," he said.
"We know it's difficult financially but I hope we can get it done," he said.
Also on rt.com
Rivals reunited: Lionel Messi and Cristiano Ronaldo to resume battle as Barcelona and Juventus drawn TOGETHER in Champions League