Manchester United captain Harry Maguire found GUILTY of aggravated assault & attempted bribery after brawl arrest in Greece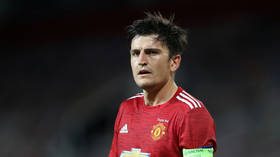 Manchester United captain Harry Maguire has been found guilty of aggravated assault, resisting arrest, and attempted bribery by a court in Greece after the football star was detained in the holiday resort of Mykonos last week.
England international Maguire, 27, was arrested along with his brother and a friend after engaging in a physical altercation with another group outside of a nightclub.
Maguire later returned to the UK as the case against him continued in Greece, but it was announced on Tuesday that judges had found the football star guilty, handing him a prison sentence of 21 months and 10 days – although the sentence will be suspended as it is a first offense and the charges were misdemeanors.
Also on rt.com
Man United star Maguire 'brawled with Albanians who injected sister with unknown substance' before arrest in Greece, court hears
Lawyers for Maguire had claimed that he had become involved in a confrontation with a group of men – reported to be Albanian – after the football star's sister, Daisy, had been injected with an unknown substance which caused her to collapse.
The defense for Maguire also alleged that he had been "kicked" upon his arrival at the police station and told that his "career was over".
However, police alleged that they were assaulted by Maguire and others when they arrived at the scene, and were later offered a bribe by the player.
"Do you know who I am? I am the captain of Manchester United. I am very rich. I can give you money. I can pay you, please let us go," Maguire was quoted as having said to local officer Mickolos Kolios.
Maguire – who pockets a reported £190,000 ($250,000) a week at Old Trafford – had faced the charges along with his brother Joe and family friend Christopher Sharman, but was represented in court on the island of Syros by his father Alan after flying back to the UK.
Joe Maguire and Sharman were given suspended sentences of 13 months after also being found guilty.
Also on rt.com
Manchester United skipper Harry Maguire appears in Greek court as further details emerge about late night arrest (VIDEO)
Earlier on Tuesday, and despite the case against him, Maguire was named in the England squad for the upcoming UEFA Nations League matches against Iceland and Denmark.
"It's clearly a decision that is not straightforward and a decision that, in the end, I can only take on the information I have," England boss Gareth Southgate had said.
"I've spoken with Harry, I have insight to the story which is very different to what's been reported. In these instances, you can only make decisions based on facts that you're aware of. Now, clearly, if facts or information change further down the line, I have to review that decision."
However, in the wake of Tuesday's verdict it was later announced that the defender had been withdrawn from the squad.
"Having spoken to Manchester United and the player, I have made this decision in the best interests of all parties and with consideration of the impact on our preparations for next week," Southgate said.
Maguire became the world's most expensive defender when he joined Manchester United from Leicester City in an £80 million ($105 million) deal last summer.
You can share this story on social media: