Conor McGregor reveals his GOATs of MMA list... and surprisingly he's not top of the pile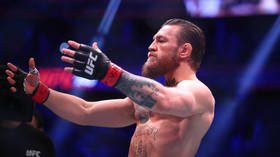 Conor McGregor has taken to social media to list his 'GOATs' of MMA, and somewhat surprisingly the notorious Irishman left himself off top spot.
Never shy of offering an opinion, former UFC 'champ champ' McGregor sparked debate on Twitter as he presented his all-time MMA rankings.
McGregor picked Brazilian middleweight legend Anderson Silva - the man with the longest reign as UFC champion - as number one, based on the criteria of Anderson's array of finishes across two divisions (middleweight and light-heavyweight).
With uncharacteristic modesty, 'The Notorious' put himself at number two (but "possibly tied at one") qualifying that by saying he would be all-time top dog "easily" by the end of his octagon career.
The Dubliner went on to select Canadian two-division champion Georges St-Pierre as number three of all time, although he did his best to damn him with faint praise, saying he was a long way behind second spot due to "bottling" a fight against Silva and "not engaging" with fighters at the 170lb mark.
McGregor also took a swipe at GSP - who it was recently announced will be inducted into the UFC Hall of Fame - for only taking a fight against Michael Bisping once the Brit had lost use of one eye.
McGregor ranked long-time light heavyweight ruler Jon Jones at number four - but with little to choose between him and St-Pierre.
The reasons McGregor gave for that choice were that while Jones has "more of an array of finishes" than GSP and is still active, he has only been champ in one division and has had some "lacklustre performances and questionable decisions."
'Mystic Mac' wasn't about to let fans think he'd gone completely modest however, rounding off his rankings by hinting at doping allegations against his rivals and saying that he hadn't mentioned performance enhancing drugs (PEDs) in his rundown.
McGregor suggested that if he had, he would be the clear number one greatest of all time.
"I've snored multiple juice heads," McGregor said. "A true GOAT must do it all."
You can share this story on social media: