Blooper of the year! Calamitous Paraguayan goalkeeper goes viral as he dribbles ball into own goal (VIDEO)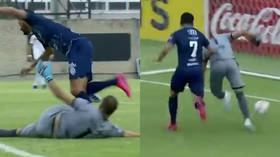 General Diaz goalkeeper Gustavo Serdan had a day to forget during his team's 1-1 draw with Guairena FC in the Paraguayan top flight after he accidentally sent the ball into his own net while trying to dribble past an opponent.
After receiving a backpass from teammate Álvaro Campuzano, Serdan attempted to deceive Guairena forward Santiago Salcedo by dribbling past him in his own six-yard box but the gamble most certainly didn't pay off.
The move - apparently designed to engineer more space for him to pick out a teammate - backfired spectacularly as he tripped over the ball and sent it trickling over his own goal line.
EL BLOOPER DEL AÑO |Gustavo Serdán, arquero de General Díaz, se complicó solito tras la presión de Santiago Salcedo y pasó esto... pic.twitter.com/9ushknZaDx

— Walter Estigarribia (@Estigarribiapy_) February 25, 2020
The modern goalkeeper nowadays has to have more to his game than simply being a capable shot-stopper, as shown by the success of the likes of Manuel Neuer, Liverpool's Alisson and Manchester City net-minder Ederson - all of whom are more than capable with the ball at their feet.
Gustavo Serdan? Well, it appears that there is a reason as to why he isn't an outfield player. His blushes were saved by teammate Diego Vera who scored an equalizer to settle the scores at 1-1 after 90 minutes.
We suspect, though, that the next time a backpass is played in Serdan's direction he will put his foot through the ball at the earliest possible opportunity.
Also on rt.com
'One of the most comical own goals of all time!': Lyon defender red-faced after calamitous strike past own keeper vs PSG (VIDEO)
You can share this story on social media: