Fury as MMA referee appears to ignore fighter tapping out THREE TIMES during brutal barrage (VIDEO)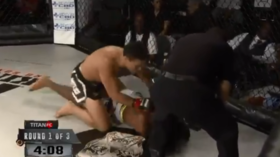 MMA referee Jorge Alonso has been criticized after appearing to ignore a fighter tapping out three times amid a ground-and-pound barrage at the Titan FC 56 event in Florida.
Alonso was in charge for the featherweight bout between Landon Quinones and Calvin Glover in Fort Lauderdale, which Quinones won in the first round with a series of strikes on his stricken opponent.
But despite the dominant nature of victory for Quinones , the bout will largely be remembered for Alonso's bizarre refereeing as he seemingly ignored or failed to notice Glover tapping at least three times as he shipped heavy punishment on the deck.
Fight commentator Jimmy Smith could be heard imploring Alonso to step in, shouting: "He tapped at least three times!"
Social media users also piled in on the official, with some saying he should "never referee again."
Alonso does not lack experience, refereeing since 2003, according to Tapology.com.