Greatest race ever? 'World's fastest T-Rex' contest takes place at racetrack in Washington (VIDEO)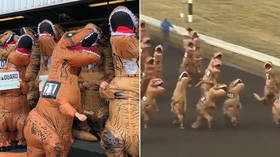 Yes, T-Rex racing is a thing, and it just might be the greatest race you've ever seen, as 25 participants donned outfits at a racetrack in Auburn, Washington, to determine the 'world's fastest T-Rex'.
The Emerald Downs Racetrack & Casino is a thoroughbred racecourse that usually holds equestrian meets and occasional dog shows, like any other usual racecourse.
That briefly changed when it hosted the bizarre 'T-Rex race' between 25 members of a pest control company last weekend.
Despite becoming extinct around 65 million years ago, the 'world's fastest T-Rex' was decided when the title went to an unnamed runner wearing number 13, who won by a neck.
The race went down well with observers, with some dinosaur-racing enthusiasts saying they would gladly see the event replace normal horse racing.
Its not the only The racetrack also holds unconventional canine race meets for beagles, wiener dog and "wiener wannabe" breeds.