'I've had better fights than this!' Michel Pereira delivers stunning knockout in his UFC debut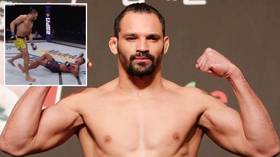 Brazilian welterweight Michel 'Demolidor' Pereira had a UFC debut to remember as he stunned British veteran Danny Roberts with a spectacular first-round knockout at UFC Rochester, then said there are even better things to come.
The 25-year-old from Brazil arrived in the UFC with a reputation for his wild, unorthodox fighting style that saw him perform a host of spectacular moves, including rolling thunder kicks, moonsaults, and off-the-cage strikes.
But the perceived wisdom was that he would rein in some of his wild tendencies once he arrived at the highest level in the UFC.
However, Pereira had other ideas.
The Brazilian made a long and emotional entrance to the arena as he stood in the prep point in floods of tears. Then, as octagon announcer Joe Martinez announced him to the fans inside the Blue Cross Arena, he performed a spectacular breakdance routine on the canvas.
Then, once the action got underway, Pereira delivered a spectacular display of wild, unpredictable striking that eventually led to a stunning first-round knockout.
A spectacular flying knee connected cleanly on Roberts's chin, and Pereira instantly followed up with a powerful straight right punch that sent the Brit crashing to the canvas as the referee stepped in to halt the contest.
It was as spectacular a victory as you could possibly wish for in your UFC debut, but backstage after the contest he said there is much, much more to come.
"I've had better fights than this," he said.
"I fought very little in there. I couldn't even show half of my skills.
"I still have a lot of fantastic moves to show the UFC fans."