'Disgusting': Liverpool fans shamed after shoving man into fountain, racially abusing him (VIDEO)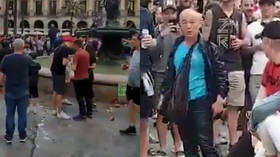 A group of Liverpool fans have been shamed after footage emerged showing them shoving two men into fountains in Barcelona ahead of their team's UEFA Champions League semi-final first leg in the city.
Fans of the English club have been massing in the Catalan city ahead of Wednesday's game at Camp Nou.
At least two videos circulating on social media have shown scenes of Reds fans pushing people into fountains in the famous Placa Reial square.
One incident showed a Liverpool fan shoving an elderly man into the fountain, with the drenched victim then heard being mocked as 'Mr Miyagi' - the character from the 'Karate Kid' movies - when he confronted the supporters.
Another similar incident showed a fan dumping a local man, who appeared to be carrying a pack of beers, into the fountain to a chorus of laughter from fellow supporters.
The scenes have been widely condemned as "embarrassing" and "horrible" by social media users.
Liverpool have condemned the fans' behavior as "totally unacceptable" in a statement issued on Wednesday.
"Liverpool Football Club is working with Merseyside Police and the authorities in Spain, who are endeavouring to identify those involved in the incident," the club wrote.
Liverpool chief executive Peter Moore also urged fans to behave with "grace and humility."
"We proudly sing that we've conquered all of Europe," he tweeted.
"But let's treat this beautiful city with the respect that it deserves, and act in a manner that is befitting of LFC.
"By all means have a good time, but we are Liverpool, and as such, let's visit here with grace and humility."
Six Liverpool fans were reportedly arrested by Spanish Police on Tuesday in a separate incident.
Some Reds fans have complained of an "over-reaction" by local police in their response to incidents in Placa Reial square, while others have said that central areas have been blocked off to fans.
Almost 5,000 Liverpool fans are expected to be in Barcelona for Wednesday night's game, which will pit two five-time winners of the competition against each other.