Conor McGregor's exhibition opponent jokes UFC star 'cheap shotted' him during boxing match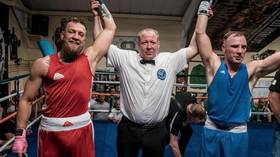 The man who took on Conor McGregor in an exhibition boxing bout in Dublin jokingly accused the Dubliner of hitting him with a cheap shot, but warned the UFC star is already in fighting shape ahead of a possible return.
Michael McGrane took on McGregor last Friday in a four-round exhibition contest, and said he was caught by a big left hand from the former two-division UFC champion when he was expecting to receive a glove-touch.
"You're meant to back to your corner, but Conor never went back to his corner," McGrane told TMZ.
"Conor leapt at me with a left hook. Conor McGregor hit me with a cheap shot in his own home town!"
McGrane also jokingly bemoaned the performance of the referee during the bout, saying he was biased towards the multi-million-dollar superstar in the bout, which was adjudged to have been a draw.
"The ref was on his side," he stated.
"There's no way I would have won that fight unless I knocked him out."
McGrane's comments appear to have been tongue-in-cheek in nature, with subsequent quotes from the boxer giving the Dubliner plenty of praise, saying the UFC hurt him on multiple occasions during the contest.
"He caught me with a body shot and he took every last gasp of wind out of me," McGrane told MMA Fighting.
"I didn't think I was going to come back from it, to be honest, but when you're looking at the crowd and you're looking at the corner, you have to get your breath back. I got my wind back before the 10-count, so I knew I was ready to rock again."
Contrary to McGrane's tongue-in-cheek protestations, the footage showed the pair HAD in fact touched gloves before the contest after the referee's final instructions.
Then, when the bout began, both men left their respective corners, with McGrane opening up the bout by dancing out of the corner. McGregor simply stepped in and connected with a solid left hand.
But perhaps the most telling quote from McGrane came when he was asked by MMA Fighting to assess McGregor's physical condition in the contest.
"He looks fit and ready to go, but you still don't know what he's thinking or what his plans are for fighting again, you really don't know," he explained.
"It's hard to know what he's thinking. He's a multi-millionaire, he could have anything going through his head, you wouldn't know. He's in fighting condition anyway, that's a definite."
Also on rt.com
Boxer Amir Khan open to 'massive fight' with UFC star Conor McGregor
You can share this story on social media: