'Danny Drink-beer?' - Chelsea midfielder trolled for sober-sounding surname after DUI arrest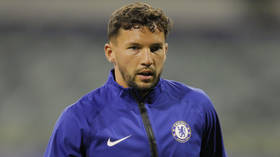 Chelsea midfielder Danny Drinkwater has been trolled mercilessly online for the unfortunate irony of being arrested for drink driving. Ingenious social media users could not wait to make a link to his sober-sounding surname.
Drinkwater, who has been a bit-part player for the London team since joining from Leicester City in 2017, with whom he won the English Premier League title, was arrested on Monday after a collision near his home in Mere, Cheshire.
A Cheshire Police statement read: "Danny Drinkwater, of Bollington Lane, was arrested shortly after 12.30am on Monday 8 April following a one-vehicle collision on Ashley Road in Mere.
"He has been released on unconditional bail and is set to appear at Stockport magistrates court on Monday 13 May."
As expected, social media was awash with slightly less-than-creative memes featuring predictable puns on the player's teetotaler-sounding second name. Even former Chelsea teammate Cesc Fabregas got in on the action.
Other's found time to criticize the state of modern football by mentioning the fact Drinkwater takes home his current wages of around £100,000 per week ($130,000), despite not having played competitive football for Chelsea this season, and the last time he saw action for Chelsea was 30 minutes in the Community Shield.