'I can only hide so much of my girliness': UFC knockout VanZant hits out at swimsuit shoot critics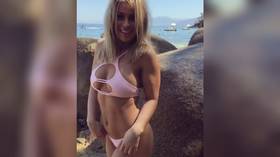 UFC flyweight Paige VanZant says she chose to pose for the world famous Sports Illustrated Swimsuit Issue to break the stereotype of what a female fighter is supposed to look like, proving she is much more than just a pretty face.
VanZant is among the more accomplished female fighters on the UFC roster, having tangled with a who's-who of the best fighters in the world. She has shared a cage with the likes of current world champion Rose Namajunas, as well as Michelle Waterson, Bec Rawlings and others. But, to some at least, she has struggled to shed a reputation of her spot on the UFC roster being awarded to her based on looks alone.
But, as VanZant said in her recent interview with FanSided, she has come to terms with the perception some fans may have of her.
"I've been pushing these opportunities to the side," said VanZant of the opportunity to pose for Sports Illustrated.
"I can only hide so much of my girliness. I've been turning down opportunities because I do want people to see me as a professional fighter.
"I'm done with that," she added. "I'm going to 100 percent be myself. There is this new era of being strong and beautiful. The die-hard fight fans can complain that I'm doing things like Sports Illustrated but it's who I am and I absolutely loved it."
VanZant, nicknamed '12 Gauge', has enjoyed some tremendous moments in the Octagon. An August 2016 win against current Bare Knuckle world champion Bec Rawlings by virtue of a stunning switch kick and punches TKO was among that year's most memorable finishes to a fight.
More recently, she scored a slick armbar submission win against Rachael Ostovich but, despite her acumen in the cage, she says that some fans don't give her the credit that she feels she deserves.
Also on rt.com
Knockout! UFC star Paige VanZant sizzles in Sports Illustrated swimsuit shoot (VIDEOS)
"There is not a lot of loyalty," VanZant said. "The true fans support me in any endeavor and they like me as a person. I don't think there should be any question about my fight career at this point. I've broken my arm twice.
"Maybe I don't look like a professional fighter but, hey, I was born this way. Call my mom and dad."
VanZant was scheduled to compete at UFC 236 next weekend before the aforementioned broken arm ruled her out of action. She is expected to fight this summer.
You can share this story on social media: