'Not our values': Reebok steps back from Russian 'sit on man's face' ad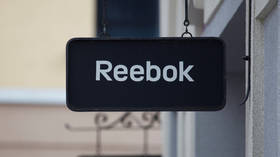 A representative from Reebok's international department has distanced the sportswear giant from the controversial Russian 'sit on a man's face' ad, saying that it doesn't reflect the company's philosophy and values.
Talking to Govorit Moskva, Reebok spokesperson Daniel Sarro stressed that controversial slogans which had outraged public opinion in Russia had not been coordinated with the company's governing office.
READ MORE: Reebok embraces social justice in Russia with bizarre 'face-sitting' feminist ad
In 2018, Reebok launched the "Be More Human" campaign featuring global sports figures and TV stars, including 'Game of Thrones' actress Nathalie Emmanuel, who shared their inspirational stories aimed at encouraging other women to overcome difficulties they face.
However, the Russian version of the campaign, which promulgates equality and self-expression, caused a stir on social media with many customers finding it aggressive, inappropriate and event vulgar.
Also on rt.com
'Don't see me as a feminist': Russian athlete distances herself from Reebok 'sit on man's face' ad
One Russian ad featured feminist influencer Zalina Marshenkulova, who called on her female counterparts to "sit on a man's face."
"Stop sitting on the needle of a man's approval – sit on a man's face," the caption to the ad reads.
Another provocative message featured MMA fighter Justyna Graczyk, apparently warning that she had razor-sharp breasts in a post which translated as: "I covered my nipples so that you don't cut yourself."
Sarro said the company had cut ties with Alexander Golofast, the PR manager who created the scandalous slogans, emphasizing that his comments didn't reflect the views of his employer.
Sarro also said Reebok has always tried to maintain high standards, adding that the global "Be More Human" campaign will be extended despite the Russian controversy.
You can share this story on social media: