World Series trophy damaged by hail of beer cans during Red Sox victory parade (VIDEO)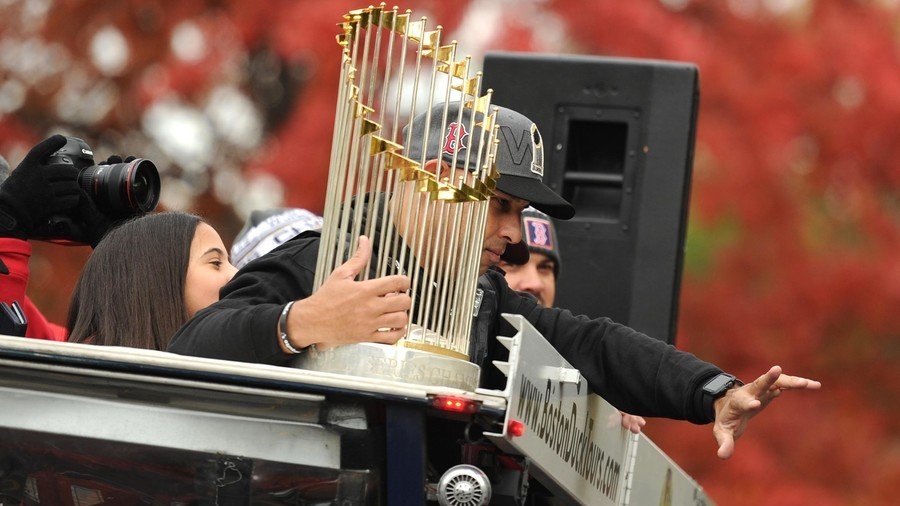 The victory parade through Boston streets for the World Series-winning Red Sox was spoiled after one attendee threw a beer can which then reportedly hit and slightly damaged the championship trophy.
The Red Sox's World Series victory parade through the streets of Boston was a glorious event attended by thousands of fans celebrating the team's fourth title, which finally returned to Massachusetts after 15 long years.
As the Boston Red Sox made their way through the packed streets, fans could not contain their excitement, tossing multiple cans of beer at the baseball players to show their appreciation for their Sunday win against the Los Angeles Dodgers.
While there were no serious issues during Wednesday's duck boat parade, held amid a heavy security presence, one jubilant fan managed to spoil the mood for the thousands in attendance after reportedly tossing a full can of beer at the Red Sox boat, striking a man.
Videos posted on Twitter show Red Sox manager Alex Cora being hit by a projectile, which also hit the World Series trophy, slightly damaging the coveted award. "I love Cora, I didn't mean to hit him," the teenager held in connection with the can-throwing told officers, according to a police report.
"The World Series trophy took a direct hit," Chronicle news anchor Anthony Everett, who witnessed the incident, noted. "It got bent out of shape. They brought it back down into the truck and it looked like they fixed it pretty well, but there's going to be some repairs involved with at least one of the World Series trophies."
Boston police went on to arrest 19-year-old Patrick Connolly, who was charged with disorderly conduct as well as assault and battery. Police, however, did not say whether Connolly was the same person who threw the beer that damaged the World Series trophy.
Think your friends would be interested? Share this story!
You can share this story on social media: