'I'm a champion, they beat the Arabs. Where's my award?' - volleyball player on Russian footballers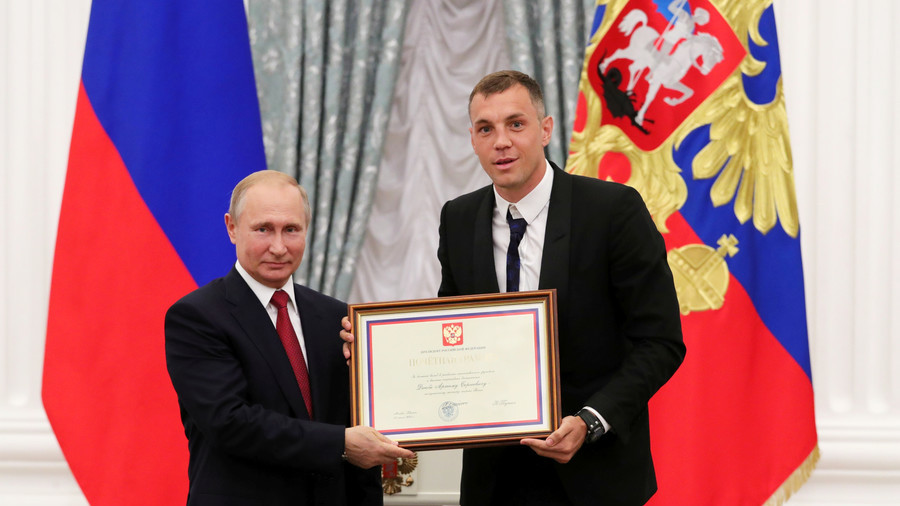 Volleyball player Aleksey Spiridonov has joined in the criticism of the decision to hand the coveted 'Honored Masters of Sport' award to the Russian national football team after they reached the World Cup 2018 quarterfinals.
Russian President Vladimir Putin handed out honorary certificates to the players and coaches in a ceremony at the Kremlin on Saturday as well as awarding team coach Stanislav Cherchesov the prestigious 'Order of Alexander Nevsky'. Goalkeeper Igor Akinfeev was awarded the Order of Honor, along with veteran defender Sergei Ignashevich.
However Spiridonov, who won two World Leagues in 2011 and 2013, questioned whether the side, who went out at the last eight stage when they lost to Croatia on penalties, deserved the award, and compared them to his own achievements in his sport.
"I won European championship, a couple of world leagues and a couple of Champions Leagues. Where's my Honored Masters of Sport award? And here they beat some Arabs - and you get an award," Spiridonov wrote on Twitter, Championat reported.
Spiridonov is the second volleyball player to speak out about the award. After the decision was announced, former Russian volleyball star Yekaterina Gamova, a double world champion and two-time Olympic silver medallist, said that the honor was as such being "devalued."
Gamova, 37, wrote on Instagram: "Some people need to win the World Championship or become an Olympic champion [to receive the title], but some people get it for reaching the quarter-final!" she wrote, adding: "It's a shame for me that [the title Honored Master of Sport] is being devalued!"
READ MORE: Russian volleyball star questions award for men's football team over World Cup quarter-final run
However, Russian 2010 Winter Olympics medalist Ivan Skobrev, said he believed the players were worthy recipients of the awards, asking "why not" honor the footballers if there is a chance to, as it is a Russian prize from the Ministry of Sport and did not signify international recognition.