World Cup stadiums already showing promise in continuing Russia 2018 legacy (PHOTOS)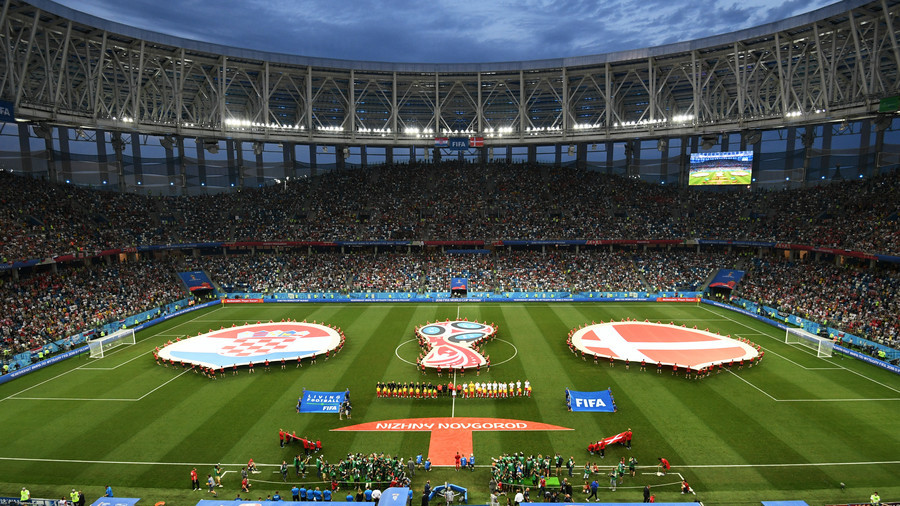 The Russia 2018 host stadiums were the subject of much pre-tournament speculation over their preparation. After a highly successful World Cup, RT Sport takes a look at the legacy of where the action took place.
It's just 10 days since France beat Croatia 4-2 on Luzhniki's hallowed turf to clinch the famous trophy in the showpiece match to bring down the final curtain on perhaps the most exhilarating major international tournament in living memory.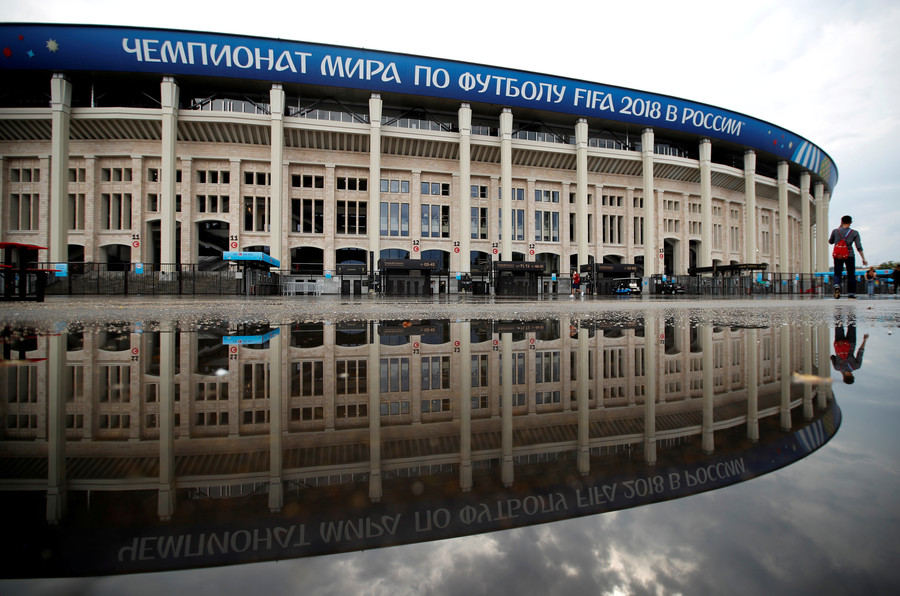 The heady heights of a wild and wonderful World Cup seem already confined to a distance past, but the fate of what the tournament left behind is looking ahead to a bright future already as the host stadiums continue to provide a beacon of legacy.
READ MORE: Stunning Pavard volley voted best goal of Russia 2018 World Cup (VIDEO)
A handful of purpose-built stadiums have already seen action and other stadiums are gearing up to host their latest matches and welcome in a new generation of football fan inspired by the World Cup.
Nizhny Novgorod Stadium
Sitting by the Volga River just 400km from the Russian capital Moscow, Nizhny Novgorod held six World Cup matches at its purpose-built stadium, including England's 6-1 rout of minnows Panama and finalists Croatia's penalty shootout victory over Denmark in the last 16.
There were 18,000 in attendance in Nizhny Novgorod as they also got their first post World Cup football since Uruguay lost to 2-0 to France on July 6th.The home side won 2-1 against Tyumen. pic.twitter.com/RoEc6MXKr2

— Russian Football News (@RusFootballNews) July 22, 2018
The city got its first taste of football action since eventual winners France's 2-0 win over Uruguay in the quaretr-finals when 18,000 saw the home side lose 2-1 to Tyumen. Nizhny will add another chapter to its young but burgeoning football history when the city holds the Russian Super Cup between Russian champions Lokomotiv Moscow and CSKA Moscow on Friday May 27.
Volgograd Arena
Standing on the banks of the Volga River and in view of The Motherland Calls statue, the stadium saw perhaps the best gates of all World Cup stadia post-tournament when 30,000 fans packed the venue to watch Rotor Volgograd's first game of the National Football League.
Rotor Volgograd play their first home match of the season and the Volgograd Arena sees its first football since Japan 0-1 Poland on the 28th of June.Big turnout for 2nd tier football yet again this week! pic.twitter.com/SG9yOzN8Si

— Russian Football News (@RusFootballNews) July 22, 2018
And they didn't go home disappointed when the new occupants of the stadium secured a 1-0 win versus Luch. They may have some way to go until the club can again reach the heights of their 1995 win over Manchester United on away goals in the UEFA Cup.
Rotor Volgograd find the back of the net in front of 30,000 fans at the Volgograd Arena yesterday, in their 1-0 win vs Luch. Amazing to hear such noise in a Russian 2nd tier match! 🎥: @FCLuch_VLpic.twitter.com/g39m7vw3C8

— Russian Football News (@RusFootballNews) July 23, 2018
All the same, that number would have put them third among the average attendances for second flight matches in England, which is a long way considering Rotor were relegated last season but only stayed in the league by virtue of other teams refusing promotion from the division below.
Kaliningrad Stadium
The most westerly venue of the 12 at the World Cup, Kaliningrad Stadium will be occupied by Baltika Kaliningrad, who drew a crowd of just over 10,000 for their recent loss to Tambov on Sunday.
Meanwhile, Kaliningrad saw it's first match since England lost to Belgium on June 28th, but home side Baltika lost 2-1 in front of a crowd of just over 10,000. Big for this level but not as good as the other games today. pic.twitter.com/zJZhYVRmji

— Russian Football News (@RusFootballNews) July 22, 2018
While not the most inspiring figures and a good deal short of the 35,016 official full capacity, it is higher than their average attendance for a decade and a near 300 percent increase on the club's average attendance for two seasons ago.
Cosmos Arena
Perhaps the stadium with the coolest name of the bunch, Cosmos Arena in Samara, played host to a total of six World Cup games, including hosts Russia's final group stage game, a 3-0 defeat by Uruguay, and also the five-time world champion Brazil's 2-0 victory over Mexico.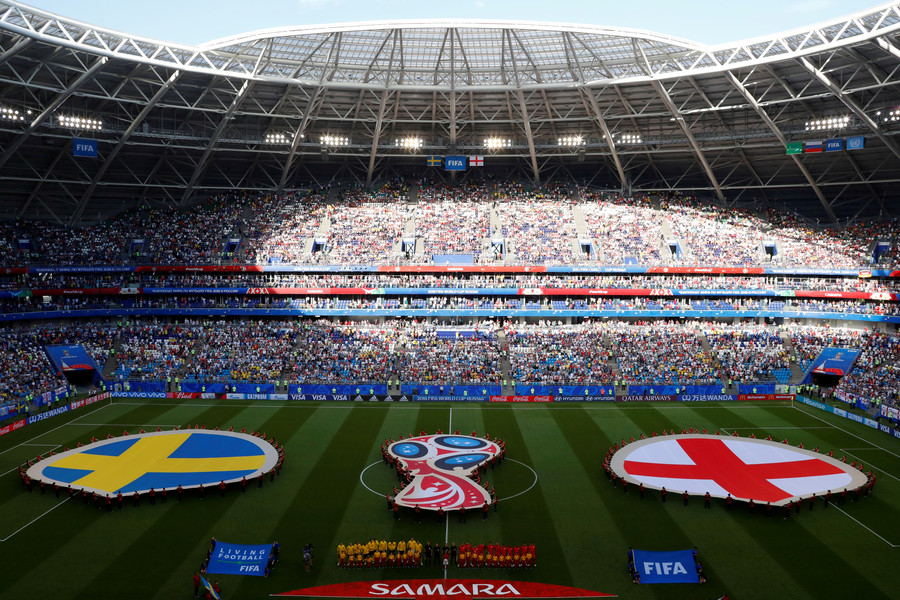 The biggest of the selection of matches held was England's 2-0 quarter-final victory over Sweden. A touch under capacity 39,991 people watched The Three Lions march into the semi-finals for the first time in 28 years. Those figures are out of reach for Krylia Sovetov, the local club to occupy the new stadium.
Just 19 days ago, the Mordovia Arena hosted it's final World Cup match between Panama and Tunisia.Today, in a second tier season opener, Mordovia Saransk take on Nizhny Novgorod. By no means is it full, but an amazing turnout for a 2nd tier match on a Tuesday afternoon! pic.twitter.com/JAJaYOp5AH

— Russian Football News (@RusFootballNews) July 17, 2018
Kazan Arena
Kazan Arena in the capital of Russia's Republic of Tatarstan was labelled the 'Champions graveyard' of the tournament for the string of World Cup-winning nations who were toppled at the glorious ground. Football heavyweights Germany, Argentina and Brazil - with a total 11 World Cup titles between them - all crashed out of the tournament by the banks of the Volga River, around 100km east of Moscow.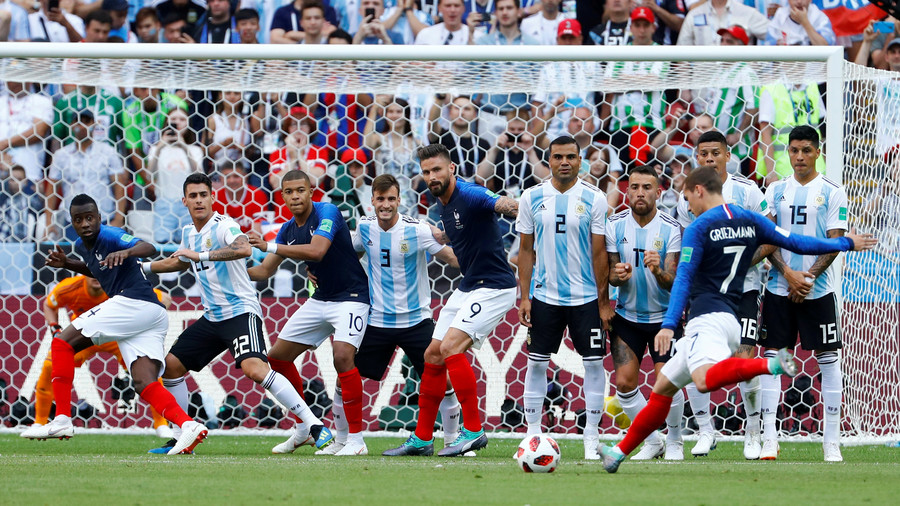 Home to Rubin Kazan, who have made a name for themselves in previous seasons on the European stage against the likes of Barcelona and Liverpool, recording a shock victory over the former in the famed Camp Nou stadium, the stadium is in stable hands. The venue itself has formerly been used for football events such as the 2017 Confederations Cup in Russia and has hosted the Russian Cup final.
Tickets for future games cost around 100 rubles ($1.60), cheaper than some matches held in the division below, which will surely see increased attendances for groups of fans wanting to recapture the World cup atmosphere created there, which was evident in arguably the tourament's most exciting match when France dispatched Argentina in a 4-3 thriller.
You can share this story on social media: