Moto racer jumps crashed bike in amazing video game-style near miss (VIDEO)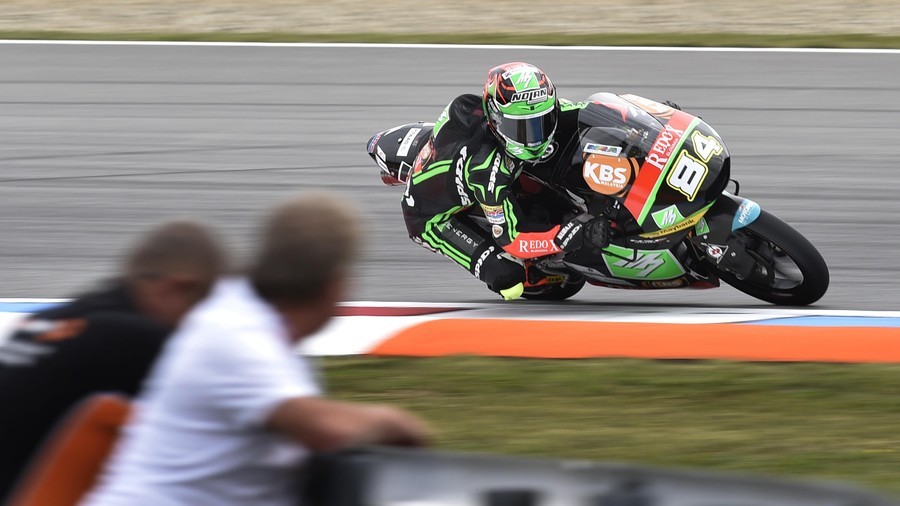 Moto3 rider Jakub Kornfeil has been lauded for his incredible 'Evel Knievel' type stunt to avoid hitting a competitor who crashed at the French Grand Prix at Le Mans.
The Czech pulled off an incredible 'jump' to avoid Enea Bastiannini's bike on the final corner of the penultimate lap at the famous Le Mans track over the weekend, after the Italian rider lost control of his machine and slid into gravel.
Kornfeil was just behind Bastiannini in fifth place at the time of the accident and, with little time left to avoid the vehicle, opted to ride over the top of the vehicle and perform a 'bunny hop' jump to land upright in the gravel and rejoin the race.
"The first thing I was thinking of was to open the gas and stand up on the pegs," Kornfeil said after the race.
"The landing was so heavy, my rear suspension went down to its maximum," he added.
READ MORE: McGregor teammate 'escorted by armed guard' following controversial stoppage in Russia
Such was the impact that the remaining minutes of the race were more than uncomfortable for the Czech. Despite the incident Kornfeil finished in sixth place, just sixth seconds off Albert Arenas' winning time.
"The last lap was really painful so (I) could not wait to stretch my body after the race," he said.
You can share this story on social media: