Palestinian protester uses tennis racket to bat away Israeli tear gas (PHOTO)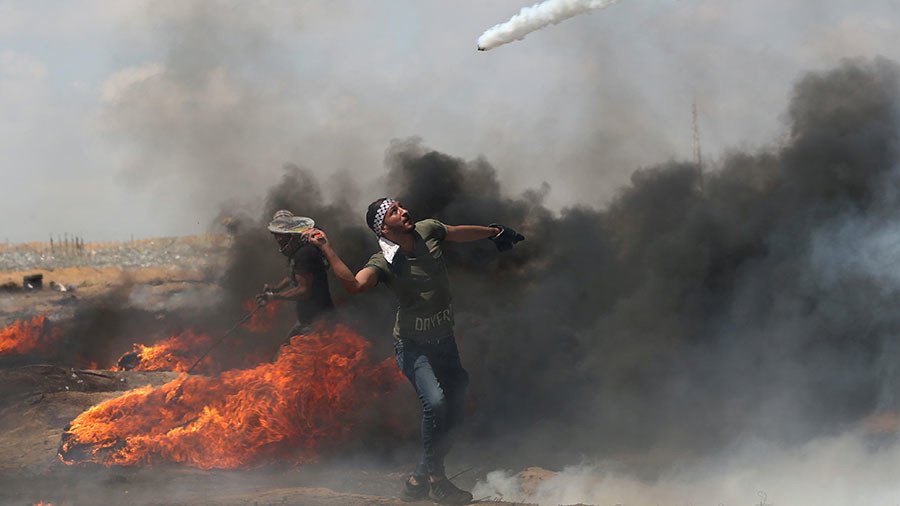 A Palestinian demonstrator used a tennis racket to defend himself from tear gas fired by Israeli troops during protests on the Gaza-Israel border.
A photo of the man knocking the canister away was taken on Monday, when Palestinian protests drastically intensified in reaction to the US moving its embassy to Jerusalem.
US President Donald Trump formally recognized Jerusalem as the capital of Israel in December and the US Embassy was relocated from Tel Aviv to the holy city. Thousands of protesters, who gathered on the border, demanded freedom for Palestinian territories which they claim have been occupied by Israel.
READ MORE: 'Terrible massacre': Israel kills 59, injures 2,771 Gaza protesters as US embassy opens in Jerusalem
Up to 60 Palestinians were reportedly killed and more than 2,700 injured on Monday which marked the end of the six-week protest called "Great March of Return."
Israel denied accusations of using excessive force against the protestors insisting it just protects its border. UN Security Council draft statement on Israel's use of force against protesters at the Gaza border was blocked by the US.
You can share this story on social media: