Volunteer escapes death from cycling team's support car, gets Twitter apology (VIDEO)
Published time: 8 May, 2018 15:56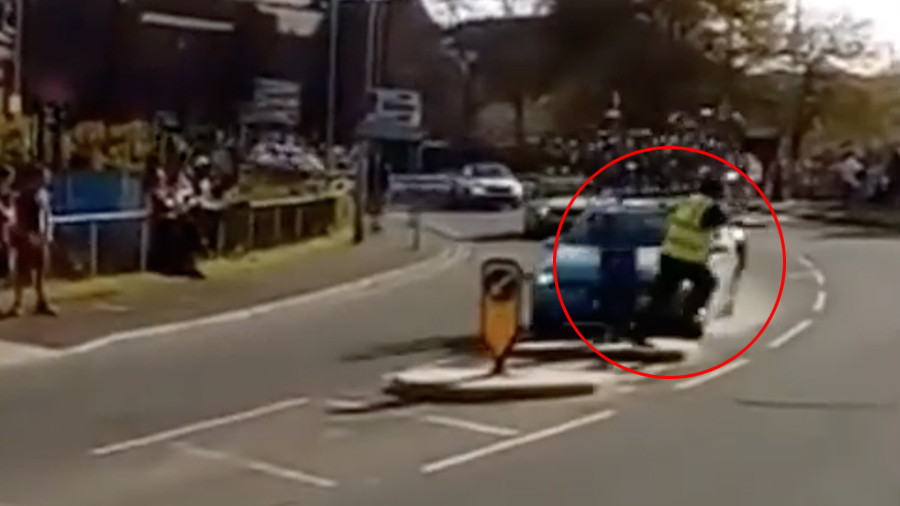 Representatives of the Astana cycling team have apologized to a race marshal who miraculously escaped a deadly collision with their support car during the final stage of the Tour of Yorkshire on Sunday.
The volunteer, Philip Sullivan, was waving a yellow flag to give navigation instructions to the race participants, when the Astana vehicle missed the warning sign and crashed into the traffic island, almost hitting the man who managed to leap out of the way at the last moment.
The vehicle, which was seemingly unable to stop, smashed the road sign the marshal had been standing next to a few moments earlier.
Sullivan, who said he was shaken by the dangerous episode, avoided any injuries after he dived off ahead of the approaching vehicle.
On Monday, Astana cycling team issued an apology on Twitter, expressing hope that such incidents will "never happen again."
We're deeply sorry about the incident with our team car. The sport director that was driving the car contacted the race organizer directly after the race to send our apologies. We're trying to get in touch with the marshal as well. We're sorry and want this to never happen again.

— Astana Pro Team (@AstanaTeam) May 7, 2018
"We're deeply sorry about the incident with our team car," Astana team representatives wrote.
"The sport director that was driving the car contacted the race organizer directly after the race to send our apologies. We're trying to get in touch with the marshal as well. We're sorry and want this to never happen again."